Ultimate challenges blog: Penultimate challenge complete!
Nearly a year on from when I started my challenges, I find myself taking on my penultimate challenge with five of my dedicated hockey team mates for an event that we were all slightly anxious of to say the least.
This month's challenge was the Columbia Hellrider – an 8 hour off-road adventure duathlon of hellish proportions. My date with devil involved entering a team of myself and 4 other (oh so naive) team mates to tackle the continuous 5km trail run and 8km mountain bike course in West Wycombe's stunning park. Our team had to try and complete as many laps as possible within the 8 hour window, all completing at least one bike loop and one run loop each, from then on we were free to mix it up.
However, the fantastic team mates I had all wanted to compete and contribute evenly, and that is what we did. We sorted out our running order in mind that those who were willing to run more would run first, as it was likely they would have to run more than once. We had heard that the female team of 5 winners from the previous year had completed 15 laps, so we figured we would not match that and estimated that each team member would complete 3 laps each; either two bikes and a run, or two runs and a bike.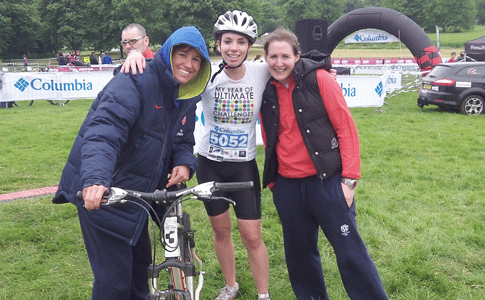 We arrived an hour before the start time and retrieved our hired bike from Cyclexperience, collected our race pack and made base near the transition area so we could see when team mates were coming in with enough time to strip down to our race gear for the next runner to go. We made our way to the start to be greeted by a huge devil who started the race and then occupied the DJ booth for the rest of the day. There was a fairly large crowd to see off the starter runners as all team mates and supporters surrounded the start line. Once the first runner had left our sight we returned to our mini-camp to get water and food on board in preparation for our stints, mine of which was the next run.
I was slightly worried that we would get bored when we weren't in action, however the beautiful setting of this event meant the eyes were never bored with fantastic views in every directions, as well as the all-action transition area and event village with music and all sorts of different trade stands with freebies galore! We also found that your rest time actually went quite quickly as we soon found that we were all averaging around the same time of 28-30 mins on the run and bike loop. This meant we had about 1hr 30 mins to rest and by the time your legs had chance to recover, you were then getting a bit of food on board before you started prepping for your next go!
My first loop was the run loop which included some really testing climbs, one of which I struggled to run completely up each time. The loop took you right to the top of the hills, and once again provided truly breathtaking views of the park's skyline to keep my mind off the lactic acid build up in my legs.  This run was full of genuine multi-terrain elements, with two rivers to cross towards the end of the loop which woke up the legs a bit, but also demanded a lot of them after all those hills! The last 200m of the course weaved through the event village meaning you gained much support crossing that last river and making your way to pass over the race baton to the next team mate for their bike loop.
I then had around an hour and half before my turn on the bike which I wasn't too sure about as one of my team mates had a fairly unpleasant experience on in the last bike loop. She had fallen off the bike twice on the narrower parts of the course as some careless (male) riders had whizzed past her when there was too little space to do so. Once I was on the course myself, I could see how this could easily happen as the shock of someone passing you when you are at such a high speed with so little room made me shake a little, with no warning of when they were coming – boys will be boys.
Even though I was worried about the mountain bike element I actually found I really enjoyed the challenge this course brought. The climbs again were extremely testing, making you feel that at no point of the course you could get your breath fully back. Again, two of the longer climbs I had to dismount my bike and push it up (jogging) for 50 metres or so. But the downhill parts of the course were just fantastic, weaving your way between the tiny tracks, embracing jumps and ducking under low hanging trees and branches. I loved the focus the course demanded and I don't think I ever sat on my saddle for more than 3 seconds at a stretch, so again the legs were full of lovely lactic acid by the end of it.
The bike and run loops nicely intertwined with one another at various stages of the course so you always felt your were part of the event. Marshals were distributed evenly around the course, providing fantastic support. It was clear to see that the event organisers had created a course that was achievable by all, yet really challenged those at the elite level. It was to my utter amazement to watch those who took on the day in the individual category, completing lap upon lap on their own for the 8 hours. I was in awe of those that managed to complete it in teams of three, never mind on their own!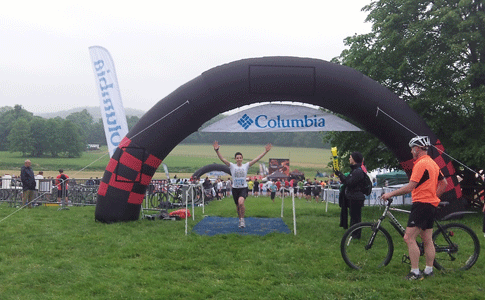 We managed to keep to our 28 minute laps throughout the day, doing between 3-4 laps each and clocking up a fantastic 17 laps in total. To our surprise we won the female team of 5 category and were awarded with some lovely Columbia jackets worth around £70! This challenge was demanding not only physically, but also mentally, and I simply could not have down it if it weren't for my brilliant team mates. They made the day enjoyable and it is definitely an event we would consider doing again next year. However, I did not feel the same way the day after when my body wasn't my best friend! But, the sense of achievement at the end of the day is what made the event worthwhile.
The challenges are certainly getting harder. Details on my FINAL challenge coming very shortly… and it's a biggie!
To find out more about my experience of the Colombia Hellrider, check out Sportsister's features section for the event review coming soon!
About Clarissa's blog
Follow me as I attempt to take on a different challenge every month for the next year from cycling, running, swimming to dancing, abseiling challenges….with as much variety as possible! I'm taking part in these challenges in the memory of my father who inspired and made me the sport fanatic I am; and raising money for The Guide Dogs for the Blind Association in his honour. Follow my journey through the highs and lows of my training, reviews of the events I partake in, and be part of what I am sure will prove to be a tough, yet exciting and fulfilling year!
Select a sport
Find out how to get started, training plans and expert advice.