British Triathlon has announced its team of six for the London Olympics which includes the female athletes Helen Jenkins (pictured), Vicky Holland and Lucy Hall.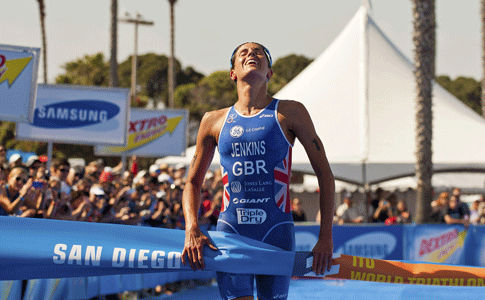 Hall has been selected to take on a domestique role, meaning her duty is to help Jenkins win Olympic gold in Hyde Park later this August.
"I'm very happy and 100% committed to my role," Hall, 20, told BBC Sport.
"My parents are very happy for me as well. They've been taking me back and forth to training since I was ten. They're as proud of me as I am."
While Helen Jenkins was an almost certain athlete to be picked, some of British triathlon's other established names such as Liz Blatchford and Jodie Stimpson, have been overlooked as the selectors took the decision to employ domestiques.
"They made it very clear that if I was going to take this place on the team, I would be going as someone to help," said Hall.
"It would be team tactics – I wouldn't be going as an individual, which I never thought I would anyway. I know I'm not a fast enough runner."
The selection of doemestique athletes making the team has upset some fellow GB competitors but Hall defended her selection, telling BBC Sport, "I'm a human being, I'm not a rock.
"I do have feelings. As an athlete I can see it from their perspective but I hope people don't see it as my fault and they realise I was selected to do a job.
"Everyone can't be happy with the decision – people are always going to be upset. That's how it is, that's sport.
"It's horrible to think some people don't get to fulfil their Olympic dreams – I hope they understand why I'm taking this opportunity. It's a home Olympics; I can't turn it down."
Full team
Helen Jenkins
Vicky Holland
Lucy Hall – Domestique role
Alistair Brownlee
Jonny Brownlee
Stuart Hayes – Domestique role
Lizzie Flint, Sportsister
The Women's Sports Magazine