I hope you all had a great Jubilee weekend, whatever you got up to. For me it was all about the Big Charity Bootcamp in Bristol which I ran for two local charities, the Bristol Rugby Foundation & FRANK Water.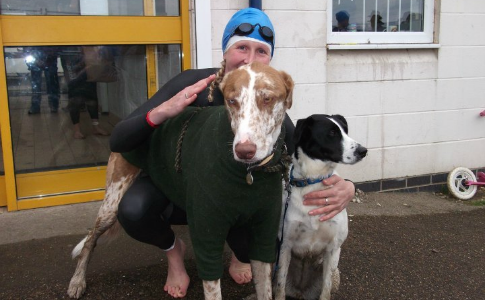 We raised around £200 with our Energised clients, alongside great 100min workout. Obviously I mustn't forget my Ironman training either, I did a little for that too.
It really does change your perspective training for an Ironman. I would never have contemplated cycling more than 50miles, let alone 100miles (especially a week after a Middle Distance triathlon!) but somehow, that is exactly what I did on Saturday.
The Bristol Rugby Foundation had a 104 miles (according to my GPS! It should have been 100 miles so maybe I don't cycle straight!) charity ride from Bristol to Bath to Gloucester Rugby Grounds and home! I didn't realise everyone else was in teams of three, so headed out on my own.
The beginning was great, fairly flat and fast, although a group of three men whizzed past and shouted, 'Just tuck in'. Now whilst this is really kind of them, there was no chance! I know cycling in a group makes it easier, but you have to be able to keep up… and I didn't!
So once you get to Bath, as some of you may know, it's a 'little' hilly if you want to get out of the city, so climbing into the mist and rain we rode from on. I definitely found the section from Bath to Gloucester tough – mental strength and focus were required.
At one point the rain was so heavy I could not see much in front, the mist was swirling around and we could have been anywhere in the world. Fortunately, once we arrived in Gloucester the sun was peeking out and we had a welcome break, photos taken in the stadium (yet to be sent out, honest!) and a couple of fancy dress horses wandering around outside (I don't think they were part of the challenge).
From Gloucester to home, it was relatively 'easy' in comparison, beautiful fields of lavender and Gloucester Old Spot Piggies (in different fields might I add). I seemed to pick up in energy (perhaps because of the coconut bars I have found – super dense in energy with no nasty sugars) and overtook a few men on the hills. As usual they overtook me later but that's ok!
Once I arrived back in the Stadium I popped my shoes on for a quick 20mins run – part of my brain is saying this is crazy! The other part is saying, you have to do this, so get going! So Saturday I rode for 7hrs 20mins, and ran for 20mins. Sunday I ran (interesting style) for 2 hours in the rain, through many street parties so I kind of felt like I had shared the experience with numerous parts of Bristol – good times.
Fear not, I have been in the pool a few times, and have found training when the Aqua Fit Class is going on is ideal for open water training (if you can't get to a lake) as it really makes the pool quite rough!
So my Jubilee Ironman Training was quite a success. On Saturday, to spend some time with my friends and boyfriend Ross, we went to the Invisible Circus. They are totally amazing acts, highly recommend but you must dress up! After cycling 104miles, the acts are even more brilliant as I am slightly sleepy.
Here is the bike route I did… Next time a car may be advised!
A few things from this week's training that might help you:
- Focus on what you want to happen, and forget about what you don't
- Make sure your kit/trainers/sports bra etc are up to date and comfortable
- Know how to change a tyre if you are going for a long ride – a couple of people didn't and had no inner tubes or pumps. Not good if it's wet and windy.
- Stretch your boundaries, because what you think you can do, and what you actually can do may be very different – its all about planning and priorities
- Train with people who are just a little bit better than you, to push those boundaries and give you confidence
- Always make time for core strength, stretching and foam rolling
- Keep it all in perspective and make time for fun, even if the goal is a big one!
What's up this week?.. Well strength, run and swim sessions done already, I am off to Tenby to do the Ironman Wales Bike Course – eek! The thought of doing another 100+ mile ride this weekend is crazy, bring it on!