Climbing blog: Summit of Lhotse 8401m (world's 4th highest peak)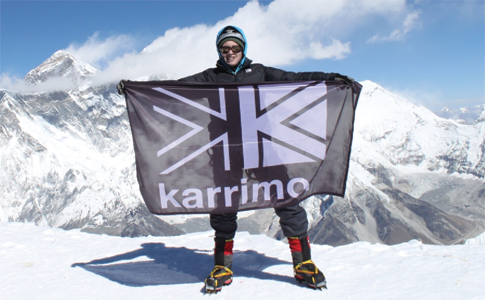 So, the summit has been reached and I am safely back in Kathmandu. I am now one of very few Britons who have climbed Lhotse, as well as the youngest Brit woman and perhaps even the youngest woman ever to have climbed it. But that doesn't say anything about the experience itself…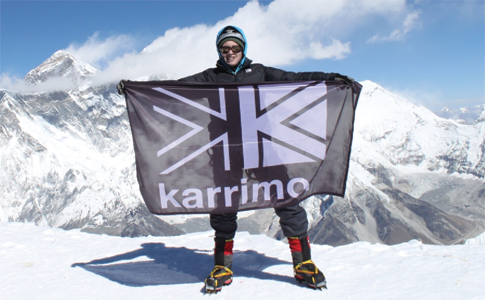 As with these less popular mountains, my summit day was completely void of other climbers – myself, our two sherpas and my climbing buddy were the only four people on the peak, whilst on Everest there have been hundreds of people going up at a time.
In fact, we could look out from our route on Lhotse and see the queues going up Everest – a line of head torches stretching for nearly a 1000m upwards – whereas this time we were totally alone with an entire mountain to ourselves. I can remember thinking: I am so glad I am not in that queue, fighting off the cold and altitude long enough to have my brief turn for a photograph on the top. It's not what climbing mountains should be about.
No one on our team had been on Lhotse before, so we were all excited to be climbing into the unknown for the first time together. I took the lead, worried about rock fall which was a significant problem this year for Lhotse with many people being injured by debris. I found a rhythm and was determined not to rush or get out of breath. I found our pace very peaceful and after a while I fell into a routine that went on and on for hours without us stopping. I felt really strong and alert, and at no point did I feel like I was climbing in the 'death zone', despite Lhotse being a massive 8401m in height.
Climbing with mittens, huge boots and an oxygen mask is pretty difficult, but my whole mantra had been to stay calm and keep a rhythm. I stepped my feet down like I was walking on glass, so as not to dislodge the loose rock, and slowly made my way up the two pitches of climbing that led to the snowy top. Below my teetering feet was the body of a Czech man – he had died only a few days before and had simply sat down at the bottom of the rock climb, shut his eyes and died. Looking down and catching glimpses of him made my heart race and gave me a lump in my throat – another fellow climber dead. I tried not to cry and to concentrate on making my way safely upwards.
The last few jabs of my crampons into the last patch of snow and suddenly I was hit with the view from the other side of the mountain – it appeared out of nowhere! I was looking over the other side of the mountain into Tibet – I nearly fell off the other side!
I was so overwhelmed and shocked by the view before me that I screamed aloud and then screamed again down the radio to say that I'd made it, My sherpa, Lakpa, and I then hugged and I cried as I was so happy that he had made it too – another first summit for him also. We could see people climbing up on Everest, but where we were there was nobody. We sat for a while and just took in the view until our other two climbers reached the top. We all hugged again – four tiny humans perched on top of this giant Himalayan peak…
I'd like to firstly thank Henry, Kame, Young Lakpa and Lakpa Onju for making our attempt successful, without any glitches and for working so hard against the odds to make sure that the Lhotse climb went ahead, despite the huge amount of attention that Everest required. Bob, my team-mate, congratulations man, it was great to share the summit with you. The team at Karrimor for their support and messages of well wishing throughout, and for supplying kit and finance for the expedition! Finally, I think I've come a long way since my fall on Everest – I learnt a tough lesson there which I have never forgotten and has made me strive to be the best I can possibly be on the mountain at all times.
I am so thankful to be alive and able to do this – and that is thanks to so many others, whom I dedicate the success of this climb to. Over and out for now – Bonita.
Select a sport
Find out how to get started, training plans and expert advice.