As a response to the success of last year's women's events and, more importantly, a reflection of the huge increase in popularity of women's mountain biking and cycling, TweedLove have included a grand total of seven women only events at their Bike Festival this year.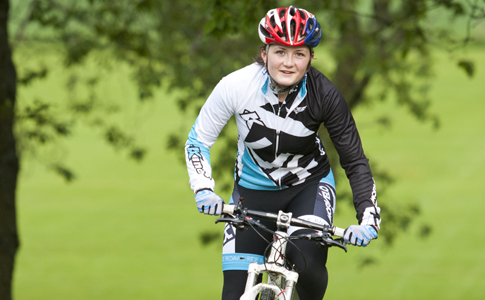 TweedLove organiser Neil Dalgleish said, "There was a hugely enthusiastic response to the women-only rides last year and we were asked for more. So we've now got free skills sessions and some great ride-outs for women, and there's even a full-on women's road race crit at the Peebles Sprint.
"The POC Queen of the Hill title is looking like it's going to be hotly contested too."
Local rising XC star Katy Winton is among the favourites for that race, and is proving the point about the rise of women in the sport.
TweedLove caught up with her for five minutes to find out a little bit more about what she's up to, where she likes to ride and why she thinks an increasing number of women are now taking to two wheels.
What have been your career highlights so far?
Getting the amazing opportunity to compete in the World XC Championships in Champery 2011, and the European Champs in Slovakia 2011.
And winning the British U16 Championships in 09 and the British U18 championships and series winner in 2010.
How long have you been riding in the Tweed valley?
For three years travelling down to Glentress then four years of living in the cycling heaven that is the Tweed Valley!
What is your favourite place to ride in the Valley and why?
Innerleithen because it reminds me why I ride a bike it's so fun and fast!! Really, I just love the variety of the valley from hillside adventures to man-made trails there is a bit of everything!
What are your thoughts as to why more women are getting involved into cycling?
Because biking is just awesome! I think it is because it is becoming much more accessible, slowly equipment is becoming more tailored for women making riding easier and, it is a sociable sport – you get fit, have lots of fun and a laugh, it's a win win situation.
What is your most memorable mountain bike moment?
Crashing at the start of the World Championships in Champery, sounds like a dreadful memory (in a way it is) but I learned so much from that race; I had to really search with in me to finish and not throw the rag in – which would have been only too easy when your only 20secs into the biggest race of your life and your already on the floor dead last. I will never forget the whole Worlds experience – it is my fondest memories.
What's next for you short term?
The POC Queen of the Hill title at TweedLove and U23 British XC Champs title!
And what about your long term goals?
Selection for U23 World Champs in Austria and then Glasgow Commonwealth Games 2014 and Olympic Games, Rio, in 2016.
Who is your favourite rider(s)?
Annie Last and Tracy Moseley – two constant reminders it is all possible, great girls, riders and athletes. I recently met Alexandra Engen, it was inspiring talking and riding with her!!
Oh, and Danny Hart's riding – his Worlds run always amazes me every time I watch it!
Katy is a great all-round rider on the bike and is definitely one to watch for the future but don't just take our word for it – check her out in this video of her riding on some of her favourite sections at Innerleithen – shes awesome!
Lizzie Flint, Sportsister
The Women's Sports Magazine