Carrie on running: 5km is so last week
Today (Tuesday) is my birthday. I'm 32 years old but on this very day I feel like I'm 72.
I'm hobbling around, I'm tired and every time I stand up I get aches in my right leg. Six weeks ago I wouldn't have felt good about having aches and pains and hobbles but today it feels great to have them – they're a sign that I'm recovering from having pushed myself. They're an indication that I'm getting stronger and am now able to say 'today is a rest day'.
On Sunday I broke my own record and ran five miles without stopping, doesn't sound like much but it's two miles further than I've managed before and isn't too far off 10km.
A fairly last minute decision saw me running a local charity run with my buddy from running club and it was a five mile largely off-road run around the Gosforth Park and Racecourse.
We set off determined to get further than the three miles we'd managed the previous Saturday at parkrun and secretly hoped that we'd manage the full five miles without having to walk.
We not only did it without stopping but we both reckoned we could've managed another mile or two if we'd had to, which is really encouraging considering our next challenge – a 10km offroad run in Keswick on 17 June.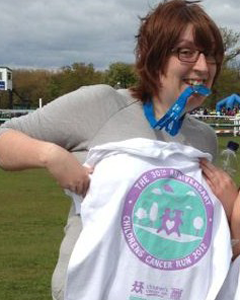 Although I'm working towards doing the Great North Run half marathon in September I'm keen to fit lots of smaller runs in from now until then and maybe the odd cycling challenge too. For me, it's all about the medals – they're like my new bling.
As a birthday present, a couple of friends of mine bought me two books written by marathon runners, one is by Dean Karnazes of Ultramarathon Man fame which I'm just itching to get stuck in to.
It would seem my newfound love of running is being happily embraced and encouraged by my friends too.
Select a sport
Find out how to get started, training plans and expert advice.