England Women powered into the quarter-finals of the IRB Challenge Cup at the Marriott London Sevens today and will now meet Russia in the quarter-finals tomorrow at Twickenham Stadium, kick off 9.30am.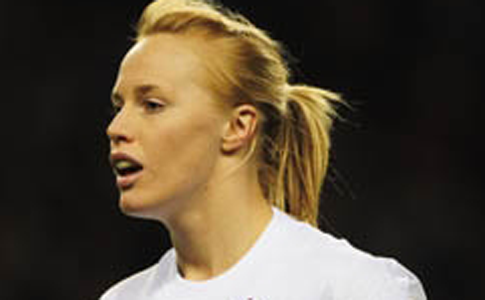 Top seeds England, who are looking for a second successive Challenge Cup title after their victory in Hong Kong in March, booked their place in the final eight after victories over Kazakhstan (26-5), Brazil (41-0) and South Africa (22-0).
England were in dominant form on home turf today and despite Kazakhstan making life difficult for England early on, some good support work put vice-captain Sonia Green through for an early score.
Kazakhstan hit back with the Anastassiya Khamova breaking away for the only try England were to concede all day but with touchdowns coming in from Heather Fisher, Katherine Merchant and Emily Scarratt England eased to a 26-5 victory.
In England's second match the home side disposed of Brazil with relative ease, running in seven tries which included braces for Alice Richardson, Abigail Chamberlain and Kay Wilson.
In the last match of the day, England wrapped up in convincing style putting 22 points on South Africa. Two tries a piece from Michaela Staniford (pictured) and Rachael Burford secured the victory and the number one spot in the quarter-finals.
England Women's Sevens Head Coach Barry Maddocks said, "I'm very pleased with today's performances. Our aim was to book our place in the quarter-finals and finish top seeds and that is what we have done.
"However, there is still a lot of improvement to come from the players and hopefully we can put that in place tomorrow.
"South Africa were a really tough side and were very physical while Kazakhstan were an unknown side and really tested us.
"It's been a good first day, with a great atmosphere at Twickenham, and we are really looking forward to the knock out stages tomorrow. It is going to be a tough day, with, in my opinion, Canada and Australia still our toughest rivals."
Lizzie Flint, Sportsister
The Women's Sports Magazine