Having been completing spinning classes through the weeks and doing 50+ miles at the weekends as well a trying to maintain my row fitness, the last few weeks have been a whirlwind of pain and training.
All I can say is that thankfully Sam at Physio World Sam is there to massage it better… well at least that's what I used to think until I came out of my first physio session seriously bruised and in a lot of pain and knowing that I couldn't train for at least two days!
But despite this sports massage is fantastic and makes you feel great afterwards. Although I will never make the mistake of saying to a physio again that it's a good way to moisturise, as I think this was a spur on to seriously get those muscles de-knotted!
This bank holiday Gaby and I hit the hills in Dartmoor. We decided that we needed to go 'up' and that a three day weekend was a great opportunity to do it.
First day, full of enthusiasm and very excited about what the day would bring, armed with High 5 snacks and pepperoni, we set the bikes up and threw all our gear on.
We set off with our OS map, got about three miles on the 'rolling' roads as we ended up calling them until we hit it. That really is the only way to explain it! We literally 'hit' the 20 per cent incline with what we thought was pace until it pretty much stopped us dead… setting our gears we pushed up!

Getting about half way up Gabby fell off her bike! Thankfully my clip ons only arrived yesterday so I was still able to get going easily.
I kept going until about ¾ up when I just had to stop to throw up (post chest infection)… not ideal… realising that Gabs was at the top, I digged deeper than I thought possible and made my way to join her.
Later that day a sheep decided to get right in the middle of the road, just sitting in my way looking at me. I didn't know whether I could stop in time but thankfully I just flicked his tail. Personally I reckon he was one extremist sheep and he probably scared me more than I scared him!
This was the way of the whole weekend – it was hardcore and we were absolutely shattered to say the least. But at least we gave it a shot and experienced it. It got to the stage where we hated going downhill because we knew that if you go down you have to go up again!
But there was a saving grace in that there wasn't any rain, and the fact that we were in beautiful Devon.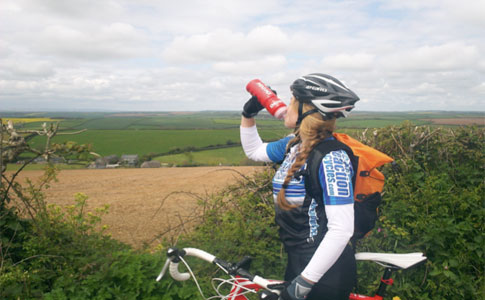 I would like to thank High 5 for the survival snacks and the source of our HIGH FIVE slaps when we conquered a hill. All in all a great weekend that's made me ready for the Hampton hilly next weekend!
P.s I would also like to thank Cranchies for their sweets… without them we would still be on the Moors.