Talking London 2012 with Imogen Bankier
After first playing badminton at the age of nine, Imogen Bankier has had her sights set on being a part of an Olympic Games.
Now aged 24, the Scottish player focuses primarily on ladies and mixed doubles, and with much success. The highlight of her professional career so far was reaching the final of the mixed doubles of the 2011 World Championships in Wembley, London, with her partner Chris Adcock (pictured below).
As half of Britain's number one mixed doubles and world number ten pairing, Imogen's main focus this year is qualifying for the Olympics at London.
We caught up with her to talk about her ultimate ambition of winning an Olympic medal and what it means to her to play in front of a home crowd.
As both a ladies and mixed doubles player, which event are you primarily focusing on for the Olympics this summer?
My aim is to try and qualify for the mixed doubles event with my partner Chris Adcock, because that's where my best chances lie of doing well. I'm much stronger at mixed doubles than I am at ladies doubles.
How does the qualifying work for badminton?
There are only 16 pairs in the event at the Olympics – so you have to be in top 16 in the world.
One pairing from every country can go unless you have two pairs who are in the top eight. But as well as this, they have to nominate places from every continent so for example, if there aren't any players in the top 16 in the world in places like Oceania or Africa they designate one of the spaces to them.
So really you have to be top 13 in the world as well as for me, being top ranked in Great Britain.
You and Chris are currently the top ranked GB pair and are number ten in the world, but Britain's number two pairing, Jenny Wallwork and Nathan Robertson, are not far behind, how close is the rivalry?
They are ranked about 20 I think. It's been a good rivalry all year.
At the beginning of the year we always knew we couldn't both qualify so it was always going to be the top ranked pair who would go to London.
We all have the potential to do well so it was always touch and go as to who would be able to go, but we've been ahead now since December of last year.
They've caught up at times and it's been quite cat and mouse for a while. Now they take the rankings as of next Thursday to see who qualifies but we don't find out for definite until May 30.
Unfortunately it's not solely based on world ranking although it's most likely it will be – the BOA (British Olympic Association) still has to make a decision who they pick between us.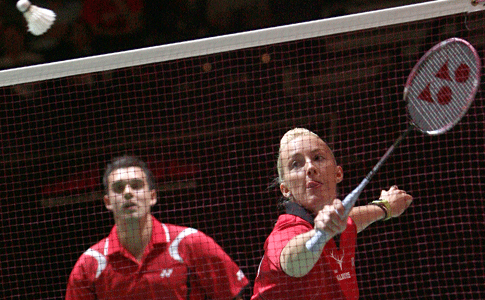 You have met each other in quite a few tournaments this year, do you enjoy playing your closest rivals in tournaments?
It's always difficult playing people from the same country – we train with them daily and we know them really well.
We've actually had to play them three times within the Olympic qualifying period. The first time we lost in Malaysia in January, but the last two occasions we have won.
We played them last week at the European championships and won in a very close three set game and then we played them in March and won again in another close three set game.
Chris has been playing this week in the Indian Open and has had to pull out with injury, is this a concern for you?
It's not anything serious. It's been a long season and we've all picked up niggles.
In India he's trying to qualify for his men's doubles event but I haven't spoken to him yet. Hopefully it won't be too serious and it won't have any effect on whether we qualify for the Olympics.
If you do qualify this will be your first Olympics, what does it mean to you to play in in such an event and also be in front of a home crowd?
It means everything. It's everything we've been aiming towards – it's the pinnacle and highlight of any sporting career.
To win at the Olympics is the most prestigious title and its all we've been thinking about for the last four years and certainly its what we've been working towards for the last year.
Its means everything to me and hopefully we will get picked and perform well.
Do you think there will be more pressure to do well, being the only GB mixed doubles pair and also playing at home?
I don't think there is more pressure;  we won't be one of the top four seeds, but we've always performed really well in big events and always had great home support – we really flourish in front of a home crowd.
The only pressure is really the pressure we put on ourselves so I think it will be a really positive environment for us to play in.
Whats the aim for London 2012? Gold medal?
Definitely we are going with the intention to get a medal and of course we want to get a gold – in the test event that was in the Olympic venue last summer we lost in the final, so if we can get silver there, then 100 per cent we can aim to do one better this summer.
Lizzie Flint, Sportsister
The Women's Sports Magazine
Photo credit: Action Photography.co.uk
Select a sport
Find out how to get started, training plans and expert advice.