Getting started – Rounders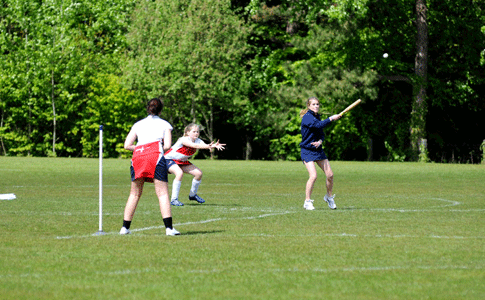 What do you think of when you think of Rounders? For us it's a distant memory of a game that we used to play as students at school. That or an improvised version with our own set of rules, usually on a beach, and invariably using different items of clothing as markers!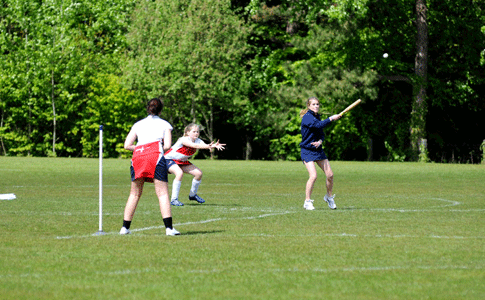 We thought it was about time that we renewed our friendship with the sport and learnt a little more about what we remember to be a really fun sociable sport to play.
So who better to ask than the National Governing Body, Rounders England, to help us blow away some of those rounders cobwebs?
What is it all about? 
Rounders is a striking and fielding team game, where points known as 'Rounders' are scored by a player hitting a ball and then completing a circuit of the track.
From nine a-side two innings games, to fun mini versions, indoor Rounders and wheelchair Rounders, variations of the game are played outdoors, on grass, artificial surfaces, on the beach or indoors in a sports hall.
The basic rules
Played between two teams, the aim is to quite simply score the most Rounders.
Teams can be a minimum of six players and a maximum of 15 players with only nine players being on the field for each team at a time.
– One team bats while the other team fields and bowls.
– The bowler bowls the ball to the batter who hits the ball anywhere on the Rounders pitch. The batter then runs to as many posts as possible before the fielders return the ball to touch the post the batter is heading for.
– If the batter reaches the second or third post in one hit, the batting team scores half a Rounder. If the batter reaches the forth post in one hit, the batting team scores a Rounder.
– A batter can be out if the fielding team catch the ball hit by the batter before it touches the ground, or by touching the post the batter is heading to with the ball before the batter reaches it.
To find out more of the rules click here.
The Kit
You do not need lots of kit to start playing Rounders, like us your first game could start with just four jumpers, a bat and a ball!
If you are interested in playing a more competitive Rounders game though here are five pieces of kit you will need to get started without breaking the bank.
Rounders Bat (from £4.00) –The official rules state that the bat shall weigh no more than 370gms. The bat shall be round and will measure no more than 46cms in length. The bat should not measure more than 17cms round the thickest part.
Rounders Ball (from £4.00) – The official rules state that the ball should be leather and shall weigh a minimum of 65gms and a maximum of 85gms. It should measure a minimum of 18cms and a maximum of 20cms in circumference.
4 x Posts and Bases (from £5) – The official rules state that the posts shall be vertical and 1.2 metres high and have a safety cap. The four posts shall be supported in an approved base and not fixed to the ground.
Pitch – A Rounders pitch can vary in size depending on your age or if you are playing for fun or playing in a competition. The pitch can be paced out in the park or on the beach or can be marked out precisely.
Click here to see the full dimensions of the pitch.
Here are some great places to buy some kit; Aresson, Safari Sports and Waft.
What to wear
The England Rounders teams play in skorts and t-shirts, however there are no official guidelines.
For health and safety purposes however, sporting or sensible footwear is recommended and in more formal play should be trainers, or boots with studs depending on the playing surface.
What are the benefits?
– It helps to keep you fit and active.
– You do not need to be hugely skilful to play and it is open to everyone.
– It's so much fun and very sociable – you can have a good laugh with your friends or even make some new ones.
– It is a very non- intimidating sport to play and in comparison to a lot, very cheap to play.
– It is a very accessible game and can be played as a club or as a drop-in game to make it easier for busy people to have a go.
Where can I play?
There are over 40 adult leagues in England, with women between the ages of 14 and 60 playing regularly.
To find your nearest Rounders club visit: www.roundersengland.co.uk
More info: mailto:enquiries@roundersengland.co.uk or visit www.roundersengland.co.uk
Select a sport
Find out how to get started, training plans and expert advice.