After making history and being one of the first to cross the Olympic Stadium's finish line, I have decided to leave my comfort zone of the land and dive into the water to take on my next challenge – Swimathon.
Swimathon is the world's biggest fundraising swim which started back in 1986, and since then more than half a million swimmers have taken part and raised over £36 million for charity. This year Swimathon is set to be even bigger by joining forces with British Swimming, BBC's Big Splash and Sport Relief to deliver what is hoped to be the biggest Swimathon Weekend yet.  The event hits 645 pools nationwide between 27-29 April, and will give thousands of swimmers the opportunity to raise money for Marie Curie Cancer Care through Swimathon's established Distance Challenges (1.5k, 2.5k, 5k or Team 5k) and for Sport Relief with the new 'Big Splash Mile'.
I am not a strong swimmer, so lucky for me that there are plenty of experts at hand to help me with my training; world 10k champion Keri-Anne Payne has designed some handy tips and a training plan for those taking on the 5k, Swimathon President Duncan Goodhew the 2.5k and presenter, model and keen swimmer Jodie Kidd for the Milers.  I shall be taking on the 5k challenge which equates to 200 lengths! For someone like myself who swims very little, this shall prove a tough challenge to tackle.
With the already apparent success of the GB swimmers inciting interest and inspiration across the nation for swimming, it seems a perfect time to get over my barriers to swimming and take part in another event that makes everyone feel part of this unique sporting year. Double Gold Medallist Becky Adlington (pictured above), being one of many athletes supporting Swimathon reinforces this saying "The Big Splash Mile for Sport Relief is not only a great way to raise money, it also is a good way to encourage people to get into swimming. Doing the Mile will help you feel part of a nationwide sporting event".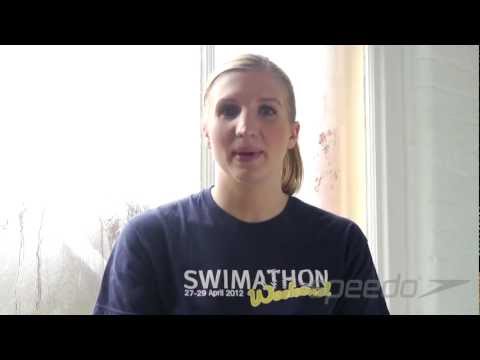 If you want to take part in the world's biggest swim, find a pool near you at www.swimathon.org