Video: Fast Girls on the big screen
Fast Girls, a new film tracking the rollercoaster journey of a British female sprint relay team, is set to burst out of the blocks and into cinemas in June and having seen the trailer we can't wait to watch the full film.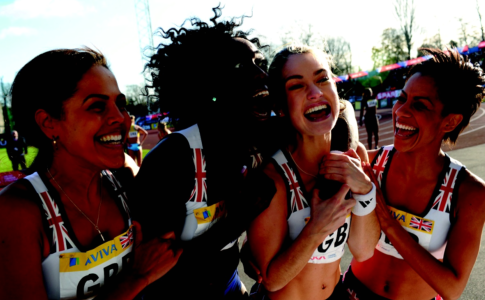 When streetwise Shania (Lenora Crichlow) meets ambitious, middle class Lisa (Lily James), their two worlds collide on the athletics track with explosive results.
As the Fast Girls strive to qualify for a major world athletics championship, they battle adversity and rivalry on their dramatic, heartwarming and inspirational journey.

Although the film features a trio of Britain's young acting talent – Crichlow (Being Human), James (Clash of the Titans 2) and Bradley Hames (Merlin) – the real stars for us are Olympians Jeanette Kwakye and Shani Anderson.
Working behind the scenes, the athletes were brought on board to coach the Fast Girls, and Anderson has expressed pride in there finally being a film made about her field. "If you think about it, in the relay you have four people running, starting and stopping at different times, the baton moving at about 25 miles an hour and continuously across the whole of the 400 metres," she says.
"The risk of it going wrong is high, that's why you need to practice and really get slick and work together as a unit which is what the whole film is about, it's about the girls coming together.
"British athletics in its entirety is fantastic but the female athletes generally have not been put at the forefront. Fast Girls will really highlight the real girls, training up and down this country, who these actresses are representing."
Kwakye adds: "It's great to be part of this. I'm really happy that a film's come along that will portray my sport and my event – it's really exciting for me as an athlete."
Directed by award-winning young filmmaker Regan Hall (3 Hours) and produced by Damian Jones (The Iron Lady, Sex & Drugs & Rock & Roll), Fast Girls is co-scripted by Noel Clarke (Adulthood, Kidulthood), Jay Basu and Roy Williams.
Clarke also heads the strong supporting cast line-up of Lorraine Burroughs (Dr Who), BAFTA nominee Phil Davis (Vera Drake), Rupert Graves (V For Vendetta), Lashana Lynch, Dominique Tipper and British under-23 triple jump champion Hannah Frankson.
Fast Girls is set to hit cinemas on June 15, but if you fancy a sneak peek have a watch of the trailer above – with just over 100 days before London 2012 all kicks off it's got us feeling rather inspired!
Jessica Whittington, Sportsister
The Women's Sports Magazine
Select a sport
Find out how to get started, training plans and expert advice.