We, at the Sport, Gender and Media Conference, are excited to write a celebratory piece for "Have Your Say."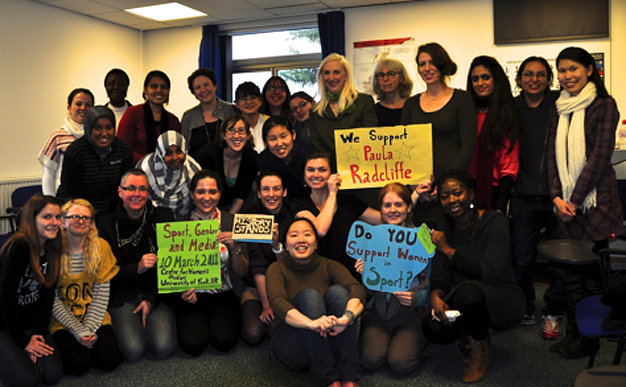 We had grown frustrated with what we saw as minimal representation of female athletes in the mainstream media, and felt sure we were not alone in this feeling. Out of this frustration, the idea for an upcoming conference was borne.
What the conference has enabled us to do, in the sometimes isolated world of academia, is to bond with a community of athletic supporters who are not just recording the absence of women in the media, but are actively working to make change.
As we became more vocal about women's positions in sport and more specifically in the media, in the Centre for Women's Studies at the University of York our colleagues became more vocal too. Suddenly, we had a group of irate students and professors calling on the IAAF to reverse their archaically sexist ruling that bars women from setting records in mixed gender races. This was quickly followed by a letter writing campaign where we sent valentines of support, or disappointment, to those who voted in BBC's infamous SPOTY. Our message was clear. Things must, and will, change.
We are happy to continue this message at our 10th March 2012 Sport, Gender and Media Conference. We have a programme that both contextualizes the need for change by exploring the exclusionary practices of the media and that brings about new ways of thinking about the media. This history of gender, sport and media is crucial to know so that we become aware of the mistakes and triumphs in the past. We will use this knowledge to shape the way we interact with the media in the future.
We do not have to rely on mainstream media to represent those we know should be celebrated within the athletic community. We can find voices like Sportsister, or ways for our own voice to be heard. In this vain, we are pleased to have Maddie Breeze speak on this process within the roller derby community in her presentation "Becoming-Legitimate: Roller Derby, Gender and Skater-Produced Media." We are also excited to be showing a short film by Lucretia Knapp which we are sure will inspire conference attendees to use new forms of media and methods of distribution.
This conference is not just about academics. It's about bringing together a community of athletic supporters who are ready to make change. We hope to see you there!
For the full schedule, and to register, please visit our blog: sportgendermedia.blogspot.com.
The conference fee is £15 for the general public and £10 for York students. Lunch and refreshments will be provided. If you cannot attend the conference, but would like to sponsor someone else to attend, please email us.
The Sport, Gender and Media conference organizing team
Sportsister, The Women's Sports Magazine
The Sport, Gender and Media conference will be held at the University of York, UK on 10th March 2012 from 9.00-18.00 and invites academics, activists, journalists, community members, and athletes to attend.
If you would like to find out how to submit an article for Have Your Say, Just click here.