Ultimate challenges blog: Seven done!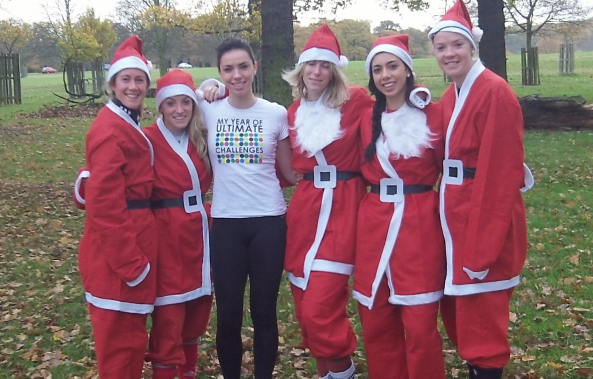 This month, I joined hundreds of other Santas to take part in the Stroke Association's Santa Run in the stunning setting of Richmond Park as my seventh challenge. To make this event that extra bit special, I was joined by my hockey team, the Surbiton Hockey Club Ladies XI who were kindly supporting me in my year of ultimate challenges and using the opportunity to raise money for Surbiton Hockey Club.
When we arrived, my friends and I were delighted by the fact we received a free Santa running outfit including a Santa suit, hat, belt and beard. This instantly got us in the festive spirit. We put on our outfits so we blended in with the rest of the jolly crowd, and waded our merry way to the start area to get a view of the course we were about to run.
The event location within the beautiful setting of London's largest Royal Park, Richmond Park, was perfectly fitting for a Christmas running event. The park's majestic woodlands, beautiful gardens, magical ancient trees and 650 free roaming deer made the event that extra bit more festive.
The race distance was a manageable 5 kilometres, with the option to run or walk your way around. There were runners of a variety of abilities and ages, allowing families to participate together dressed as Santas, with some of the more creative persuasion arriving in reindeer, elves and Christmas tree running outfits. One family even brought the family dog along with his doggy Santa costume to run too. There was also a 2k Santa's Little Helpers course for children if they wished to participate on their own.
It was a nice flat course, with no hills, making the run perfect for beginners. There were areas where the paths met roads that were still in use, however there was very little traffic and this was all controlled by marshals who gave priority to the runners. Each kilometer was clearly signposted by fantastic event staff dressed as elves, Christmas trees and puddings. Despite the cold conditions, they provided brilliant support and were smiling all the way round. After the race finished, everyone received their medals from Santa's elves.
This was a great event to take part in as my year of challenges. I would like to take this opportunity to thank the girls from Surbiton Hockey Club who took part with me. I would also like to advise anyone who wants to take part in a running event as a beginner in a relaxed and fun environment, where you can be as competitive as you like, that Santa Runs provide a. excellent opportunity to do this. They also provide a great opportunity to burn off some of those holiday calories at a time of year when everyone feels the pinch of their Christmas belts!
I shall be taking a couple of weeks rest from hockey training and my challenges over the holidays to spend time with family. This will hopefully allow my body to recover and reduce any chance of injury, in preparation for challenge eight in the New Year.
Merry Christmas, and a have a Happy New Year!
About Clarissa's blog
Follow me as I attempt to take on a different challenge every month for the next year from cycling, running, swimming to dancing, abseiling challenges….with as much variety as possible! I'm taking part in these challenges in the memory of my father who inspired and made me the sport fanatic I am; and raising money for The Guide Dogs for the Blind Association in his honour. Follow my journey through the highs and lows of my training, reviews of the events I partake in, and be part of what I am sure will prove to be a tough, yet exciting and fulfilling year!
Select a sport
Find out how to get started, training plans and expert advice.