Cycling: Armitstead abandons plans to ride in the omnium at London 2012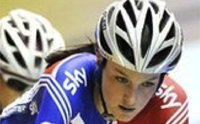 British cyclist Lizzie Armitstead has abandoned plans to ride in the omnium at London 2012 in order to concentrate on the 140km road race.
The 22 year old had intended to compete in both disciplines next summer, however Olympic regulations state that the omnium rider must also come from the group which competes in the team pursuit, an event so demanding that all riders must be totally devoted to the cause.
"Having seen the road course and the way in which the women's endurance programme is progressing on the track, I don't think it's possible (to do both)," Armitstead told Press Association Sport from the Olympic Park.
"It's a difficult decision."
"You have to be completely committed to the team pursuit and in order to do that I'd have to give up road.
"It's difficult to look at the velodrome today and see the atmosphere and the stadium that I'll be missing out on, but the whole of London will be atmospheric."
The yorkshire born rider, who was part of the gold medal winning team at the 2009 Track World Championships where she also claimed a silver in the scratch race, will now aim to be leader on the road of a British team that also includes Nicole Cooke, the 2008 Olympic champion.
Laura Trott or Dani King are likely to take Armitstead's omnium place, who have both performed strongly at European and world level.  The six discipline event which includes a Flying Lap, Points Race, Elimination, Individual Pursuit, Scratch Race and Time Trial will make it's Olympic debut next year at London 2012.
Lizzie Flint, Sportsister
The Women's Sports Magazine
Select a sport
Find out how to get started, training plans and expert advice.