London 2012: Your chance to run in the stadium with Gold Challenge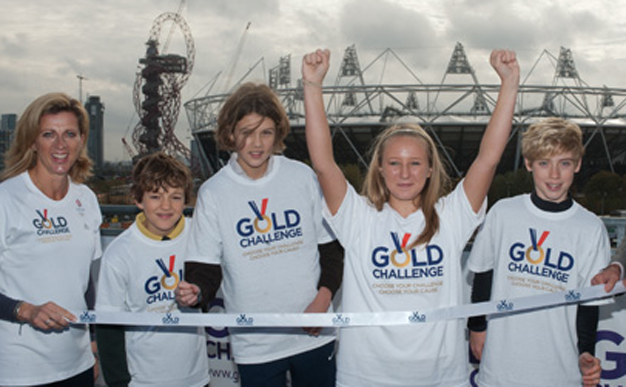 Gold Challenge, one of the official London 2012 legacy projects, has today been confirmed by the London Organising Committee for the Olympic Games and Paralympic Games (LOCOG), as the host of a key test event in the Olympic Stadium. The event offers members of the public an opportunity of a lifetime to be amongst the first in the world to compete in the Olympic stadium on Sunday 1st April of next year, ahead of London 2012.
Gold Challenge is the UK's first Olympic and Paralympic sport based charity, that challenges members of the public to raise as much money as they can by participating in either an Olympic of Paralympic sport.  Those who raise the most funds in their respective categories, will be given the opportunity to run 100m on the track of the Olympic stadium, watched by their friends and family in a crowd of 20,000.
Dan Thompson, the Gold Challenge Executive Chairman and Founder said,
"What greater inspiration to take up a challenge and raise money for charity than a chance to go to the Olympic Stadium."
Gold Challenge has over 150 charity partners and along with their representatives, Team GB legends and celebrity ambassadors will congregrate on the day to recognise and show their appreciation to the extraordinary achievements that members of the public have accomplished through their participation in sport.
The event will also signify an important step for the Olympic Stadium as the venue puts on an impressively colourful and exciting show in preparation for the Olympic and Paralympic Games in July.
The LOCOG Chairman Lord Sebastian Coe said,"We are delighted that Gold Challenge is hosting this event and giving LOCOG the opportunity to test the Olympic Stadium ahead of July 2012.  It is a fitting way to say thank you to those who have been inspired by the Games to get active and also raise money for charity."
Everyone attending the event will become part of Team GB's London 2012 campaign, "Our Greatest Team."   Andy Hunt, Team GB Chef de Mission and British Olympic Association CEO said,
"London 2012 is a once-in-a-lifetime opportunity for Team GB and everyone participating in this event can play their part by joining Our Greatest Team and giving British athletes their full support."
Some places for Gold Challenge participants will also be made available by ballot and there will also be a number of places for schools.  Tickets for the event will go on sale in early 2012.
To take part in the Gold Challenge Stadium event participants need to pick their sporting challenge and charity by registering for free at: www.goldchallenge.org
Lizzie Flint, Sportsister
The Women's Sports Magazine
Select a sport
Find out how to get started, training plans and expert advice.