Badminton: Bankier named Scottish sports person of the year
Badminton player Imogen Bankier won Scottish sportsperson of the year at the Commonwealth Games Dinner in Glasgow, celebrating an exciting and action packed year for Scottish sport.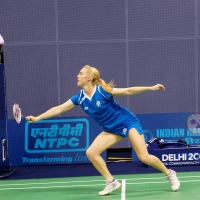 The dinner, organised by Commonwealth Games Scotland in partnership with Glasgow 2014, looked back at the success of the next generation of Team Scotland athletes who competed in the recent 2011 Commonwealth Youth Games.
Bankier was the recipient of the top award of the evening, fighting off some tough opposition to be named the Scottish Sportsperson of 2011 and be awarded the 'Lonsdale Trophy'.
She is the first badminton player and third woman to win the trophy, following in the footsteps of Katherine Grainger (rowing) and Hannah Miley (swimming).
The 23 year old became the first player representing Scotland to make it to a World Badminton Championships final, where she won silver in the mixed-doubles with English partner Chris Adcock.
The pair reached the final, where they lost out to the world number one ranked top seeds. Their success is all the more impressive, as they only started playing together in September 2010.
The badminton star, who has wins at the Scottish, Irish and Italian internationals, will receive a cheque for £1000 alongside the prestigious title.
Her opposition, swimmer Hannah Miley and junior cyclist John Paul will both receive £500 in prize money as runners –up.
Announcing the award, Commonwealth Games Scotland Chairman Michael Cavanagh said: "2011 has been another hugely successful year for Scotland's top sportspeople, which has made it tougher than ever to select one winner for this award.
"Imogen, Hannah and John are all deserving of their place on the shortlist, but Imogen is a worthy Lonsdale Trophy winner, and I would like to wish her all the best as she looks towards London 2012, and the Glasgow Commonwealth Games in 2014."
Robyn Rashford, Sportsister
The Women's Sports Magazine
Select a sport
Find out how to get started, training plans and expert advice.