Snowboarding: UK Premiere of "5 more minutes please?!"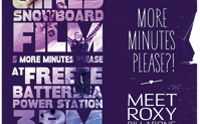 A European all female snowboard movie about the joy of snowboarding, outlining the challenges which come with being a professional athlete, will premiere in the UK on October 28 at the London Freeze Festival.
Lipstick Productions present their very first movie that features the best European female riders in a hilarious depiction of the sport that outlines the production company's mission; Let's not take everything too serious.
Austrian freelancing film director, videographer and editor Sophie Morawetz has joined with Conny Bleicher, also known as one of Germany's best female riders to create a movie with both flair and character.
"5 more minutes…please?! – TRAILER from Lipstick Productions on Vimeo.
Conny Bleicher founded Lipstick Productions this year and "5 more minutes…please?!" is her first film as producer.
One of the highlights of the film is the trip to Turkey where snowboarding and cultural diversities find a very amusing coalition.
The phenomenal female cast – including Aimee Fuller, Ana Rumiha, Aline Bock, Tini Gruber, Julia Baumgartner, Margot Rozies, Urska Pribosic, Basa Stevulova, Jenny Jones, Lisa Filzmoser, Vera Janssen, Conny Bleicher, Sina Candrian, Tania Detomas and some more – take the female sport to new limits.
The movie will be released online November 2011 on the Lipstick Productions website and via Cooler, Onboard and MPORA Network.
Robyn Rashford, Sportsister
The Women's Sports Magazine
Select a sport
Find out how to get started, training plans and expert advice.