Event review: Run to the Beat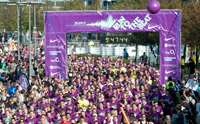 All I knew about the Nike Run to the Beat Half Marathon was that it had poured with rain when my friends had ran it a few years before. So I was already feeling in a good mood to find glorious blue skies.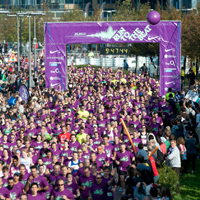 The 13.1 mile race, which starts at the O2 centre in London before winding it's way through the Greenwich and the Docklands is now in its fourth year and has 17,000 entrants.
It made for an amazing sea of runners wearing their purple race t-shirts as I headed to the start line with my sister, although travelling from Brighton that morning we found it a bit of a rush.
The count down for the 10am start had begun and rushing to find our place was not helped by poorly signposted baggage drop off point, and a queue of about 100 runners all desperate for the last minute race toilet stop.
I ended up being in such a panicked rush to find my allocated starting pen (they put in you a pen according to your predicted finish time so you don't get caught behind slower runners, nor get in the way of faster runners) I jumped in the nearest available. Finally, 15 minutes after the starter gun I was off.
I was soon in my stride and enjoying the London scenery as we ran past the impressive Royal Artillery Barracks in Woolwich and back towards Greenwich Park.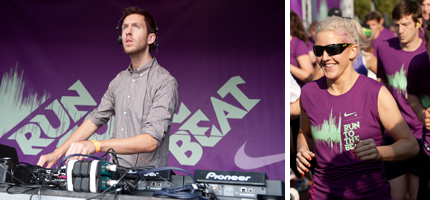 Rather disconcertingly, I saw no distance markers until mile five but running past the DJs, who were positioned around the course to help motivate runners with their live tunes,  helped boost my energy levels.
Thankfully, most of the course was shaded, providing some much needed relief from the sun and I was grateful for the water stops. At the half way mark though came a steep incline, which I hadn't been aware of. Thankfully, living close to the South Downs, I do a lot of hill running but for those used to a flat run it must have been tough.
For me, the real highlight of the race was mile nine as we turned into Greenwich Park, which was full of cheering supporters. It reminded me of having run the London Marathon in 2007 and 2005, and it gave me a much needed boost to the finish line, 12 minutes slower than my personal best.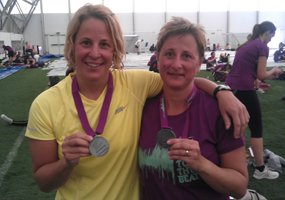 Disappointingly, as there were so many runners we were rushed through the finisher's channel and there was no goody bag. But it had still been a fantastic, friendly and novel run helped by the music. For a first timer's half marathon, this is definitely a race worth entering.
Good points:
Celebrity runners and DJ's, making you feel part of a major event
No long queues at the baggage drop and space to stretch
The race started at the allocated time – alas for me who was late!
Bad points:
Chaos at the start line and lack of pace makers within each pen
Water stations provided water in plastic cups. An impossible task to keep fully hydrated unless you stop to drink.
No goody bag. A medal and a bottle of water at the end.
Would I do it again?
Yes but I would combine it with a weekend in London rather than an early morning rush to get there.
More info: www.runtothebeat.co.uk
Kate Boys, Sportsister
The Women's Sports Magazine
Kate Boys has run numerous marathons and half marathons and is a coach with the women's only FitBitch Running School and Club, which also run weekend coaching courses. www.fitbitchrunningclub.com
Select a sport
Find out how to get started, training plans and expert advice.