You are not stuck in traffic. You are traffic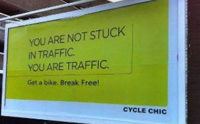 Never a truer word said….
About Sisters in the saddle blog
Cycling, riding, peddling, fixed or free. What's new, what's old, what works, what doesn't, what we're loving, events, competitions, adventures. In a nutshell this space is about two wheels and what you can do with them.

TO READ THIS BLOG IN FULL CLICK HERE
Select a sport
Find out how to get started, training plans and expert advice.