(iL) Soigneur: n, for cycling and life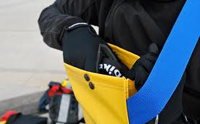 Nice new things for us, the cycling massive…
(iL) Soigneur is a rather lovely Bristol based company produces musettes – originally for racing cyclist musettes are cotton bags filled with food and drink which can be easily grabbed by a racing demon and snacked upon at great speed.  How fitting therefore that they are sold in my favourite hang-out 'look mum no hands'.
About Sisters in the saddle blog
Cycling, riding, peddling, fixed or free. What's new, what's old, what works, what doesn't, what we're loving, events, competitions, adventures. In a nutshell this space is about two wheels and what you can do with them.

TO READ THIS BLOG IN FULL CLICK HERE
Select a sport
Find out how to get started, training plans and expert advice.