Rugby: England women's rugby offer expertise at Lewes RFC
Lewes RFC's women's section welcomed two members of the England Women's Rugby squad at Thursday's training session.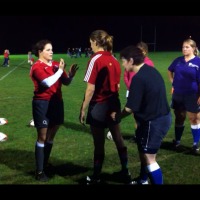 England prop Claire Purdy and scrum-half La Toya Mason gave the ladies a good fitness beasting before splitting off the forwards and backs and imparting some vital technical know-how.
Purdy and Mason have 28 and 19 caps respectively and who also play for Wasps at club level. Both displayed a no-nonsense yet insightful and encouraging approach to coaching the awe-struck Lewes women. It clearly paid off as they all left the training session motivated and energised.
Mason's feedback at the end of the session was extremely positive as she remarked that Lewes had some "real talent and just have to keep working at it". New player Helen Pratt said she was "literally buzzing" after the session.
Lewes RFC has had an established and successful women's team for over 10 years and prides itself on being an enjoyable and friendly place to play rugby. The club welcomes women of all shapes, sizes, ages and abilities. With initiatives like these, the women's section continues to strengthen its drive for inclusive women's sport in Sussex.
Women's rugby is growing at an incredible rate in the UK but it still has a long way to go before it can draw enough support to become professional. Despite this, the England women are well-known for their tireless (and voluntary) support of women's rugby development at grass-roots level.
While Lewes will be talking about this for weeks to come, there will also be the opportunity to see England Women in action when they take on New Zealand at Twickenham Stadium on November 26.
Rebecca Willis, Ladies Captain, Lewes RFC
Sportsister, The Women's Sports Magazine
Select a sport
Find out how to get started, training plans and expert advice.