Bicycle Storage Solution?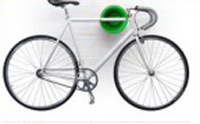 We now have 3 bikes in my flat and no space.
Its a common theme, in London particularly where bikes are essential and space is a premium.  The conundrum of how i'm going to store / hang / rest my bikes keeps me awake at night and to be honest I still haven't quite concluded on what the solution is.
A few options so far:
I've used one of these in a previous flat and although good in that location its a bit too much for my narrow hallway
Pulleys
I thought this was the ideal scenario but alas my ceilings aren't high enough and I don't think my 6ft 3 flatmate would really appreciate bike in his face every morning.
The Delta Leonardo Wall Mount Rack …
looks to be relatively unobtrusive when your bicycle isn't mounted in it and a pretty nice way of getting your bike up and out of the way when it is.  Its my current favoured option although I still can't figure out exactly where it / they are going to go…
If I lived in Lambeth I'd be Ok.  They have just launched a new scheme whereby you can rent a space in a secure 'bike box' for £5 per month.  Being a north London girl I am not normally envious of my southern friends but for once the tables have turned.  Jealous?  Yes, just a little bit.
About Sisters in the saddle blog
Cycling, riding, peddling, fixed or free. What's new, what's old, what works, what doesn't, what we're loving, events, competitions, adventures. In a nutshell this space is about two wheels and what you can do with them.

TO READ THIS BLOG IN FULL CLICK HERE
Select a sport
Find out how to get started, training plans and expert advice.