Charity: Six rowers aim to make history with charity rowing challenge
In a valiant bid to tackle human trafficking a courageous all-female crew is attempting to cross the Atlantic, in what is referred to as the worlds' toughest rowing race.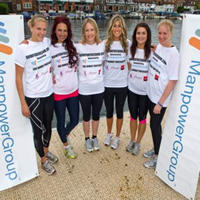 The Row For Freedom crew that consists of six women, will take on the challenge in early December and will be attempting to be the fastest and first ever to row the Atlantic unaided, establishing a double world record.
The team, who are being trained by ex Olympic rower Toby Garbett, are working alongside ECPAT UK (End Child Prostitution, Pornography and Trafficking), to campaign for safe accommodation for child victims of trafficking.
There has been much support for the expedition and former MP Anthony Sheen believes this is a positive move to tackle a growing issue: "The abuse of children through trafficking is certainly one of the worst forms of modern day slavery. I'm amazed at the prowess of these six women and their determination to row the Atlantic. Let's hope this brings home to a wider audience this evil canker in our society."
As one of the fastest growing and most profitable crimes in the world, human trafficking generates £20 billion per year and UK charities believe that the 700 victims identified in the UK last year are just the 'tip of the iceberg'.
Debbie Beadle, Youth programme coordinator at ECPAT UK and one of the team to take the 3,000 mile voyage said: "I see young people who have been abused in the most horrific ways. Each day I am amazed and humbled by how they survive and find strength to live their lives. This challenge will be nothing compared to what these children suffer."
The campaign that will take place over 35-40 days, hopes to raise £1 million for charities and with much interest generated both in the UK and globally already, it is sure to be a great success.
Robyn Rashford, Sportsister
The Women's Sports Magazine.
Image Credit: Guy Bell www.gbphotos.com
Select a sport
Find out how to get started, training plans and expert advice.