Shock Absorber WomenOnly Triathlon
When: June 10, 2012
Where: Dorney Lake, Windsor
Details: Whether you are a triathlon regular of a complete beginner looking to try a new sport, the Shock Absorber WomenOnly Triathlon is a great event and you will be raising money for  Breast Cancer Care.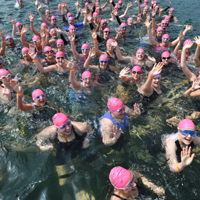 Last year 1500 women of all abilities entered the race.
The race will be held at the 2012 Olympic Games rowing venue.
The events available are:
Novice Triathlon: 200m swim, 5km bike, 2.5km run
Sprint Triathlon: 400m swim, 20km bike, 5km run
Challenge Triathlon: 800, swim, 30km bike, 7.5km run
'Health and Fitness Challenge Relay Triathlon: 800m swim, 30km bike, 7.5km run
More info: www.humanrace.co.uk or email races@humanrace.co.uk
Why not follow Sportsister's sprint triathlon training plan – to get you to the start line in top shape?
Select a sport
Find out how to get started, training plans and expert advice.