Why get a bike fit?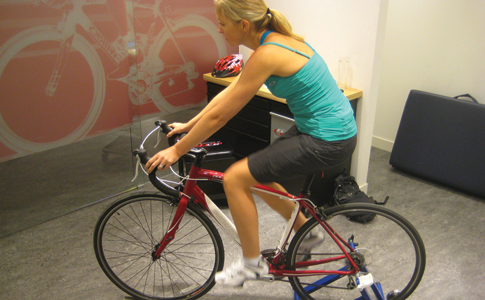 To really get the most out of your bike it's advised that you have a professional bike fit. But are they really worth the money and what can you expect from it?
I've recently discovered road cycling. It's been quite a conversion. Having been a leisure cyclist for many years, using my trusty, albeit boring, hybrid to get me from A to B in my home city of London, I'm used to the joys of pedal power. But making the switch to road cycling has been a revelation.
No longer do I buckle under the weight of my bike as I carry it up a flight of stairs upon returning home. With a lightweight frame, no mud guards, chain guard or back shelf for my shopping, my new steed (a Specialized Dolce Sport) is significantly lighter.
I am also no longer the slowest person on two wheels! I'm not the speediest either but on my road bike I can keep up with the pack on the busy cycle routes around my neighbourhood.
The reason for this conversion is that I'm taking part in the Castle Howard triathlon. Having only ever taken part in triathlons as part of a team, where I avoided the bike leg at all costs, I knew I was going to need all the help I could get. Luckily the kind folk at Specialized were on hand to loan me a bike (a shiny new Dolce Sport, which I fell in love with instantly). But that was not all I needed they told me. I must also have a Specialized BG F.I.T.
What exactly is this?
Standing for Body Geometry Fit Integration Technology, BG F.I.T. is Specialized's own bike fit system that uses a unique fit assessment process. While many places offer bike fitting, Specialized believe their dynamic method is one of the most comprehensive ensuring you get a bike that fits you like a glove.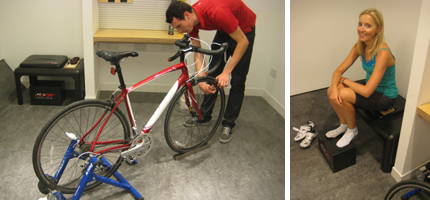 Why should I have a bike fit?
A friend who is a keen triathlete once told me the best money he had ever spent was on a bike fit. He felt it alone had made the biggest improvement to his times. A proper fit is crucial for maximum efficiency, without it you will use more energy with less effect. And even as a newbie cyclist I can see that that's a bad tactic.
So not only can it help improve your pace and performance but it should also aid your comfort on the bike too. If you are uncomfortable then riding is no fun. A bike that has been correctly fitted to you should ensure a comfortable ride.
What happens at the fit?
The process starts with a chat about your cycling history and goals, as well as discussing any current injuries or issues that you may be having with your bike. This is followed by a physical and structural assessment where Tom, who is carrying out the fit, takes me through about 20 tests to gain an accurate picture of my body's framework.
These are not fitness tests but things like measuring my sit bone to check I have the correct saddle width; checking my shoulder and neck extension; seeing how flexible my legs are and whether my pelvis is level. All of these results are then analysed by Tom to help him decide on the changes needed to my bike set up.
After that my bike is put on a static trainer and I'm asked to cycle for about five to ten minutes to get fully warmed up and so Tom can check out my riding style. As I assembled the bike myself, with very limited bike knowledge, I am fully expecting there to be some changes needed.
And I'm not wrong. Over the course of the next hour I pedal away furiously as Tom takes various different measurements and makes constant tweaks to the set up.
My results
A number of adjustments were made to my bike to ensure it was the perfect set up for me. Tom started with the saddle, the angle was wrong and he set it to sit much flatter. It sounds basic and perhaps if I had not assembled my bike myself this would have been correct anyway.
The next thing he looked at was the angle of my knee bend. In order to maximise my output this should be around 30°, before the fit mine was 45° and Tom assured me this would make a huge difference to my power. By adjusting my seat angle and height he was able to correct this.
Another major area for me was the position of the handlebars. I had been finding that my lower back was getting quite sore after riding and also my wrists were too. This was rectified with a number of adjustments to the stem and handlebars.
Finally we look at my cleat and pedal set up. After a number of tests to look at my foot shape Tom discovers I have exceptionally high insteps and suggests a pair of footbeds to give extra arch support. This makes an immediate difference and I can feel my whole foot supported, driving the pedal.
My verdict
I took my bike out for a 25km ride the following weekend and was delighted with the results. I immediately felt more comfortable whilst riding and was thrilled that my wrists and back no longer ached. I also found my rhythm much better and even my other half commented that I had speeded up considerably, despite not feeling like I was exerting myself any more than on previous rides.
Whilst I am sure that some of the adjustments Tom made could have been achieved with a regular static bike fit, I have no doubt that an intensive, dynamic fit like this is the most effective option. You receive a bespoke service that considers ever detail no matter how small. It's not cheap but if you are serious about your riding I believe you will consider it money very well spent.
Where can I have it done?
BG F.I.T.'s are offered in Specialized Concept Stores around the UK.
It costs £140 for a 2 hour bike fit plus one half hour follow up session.
You don't need to bring a Specialized bike, they will fit all brands.
For more info head online.
Dr Andrew Pruitt, who developed the BG F.I.T believes thereare four basic rules of the bike fit.
1) Bike fit is a marriage between the bicycle and the rider
2) Make the bike fit the body don't make the body fit the bike
3) Dynamic bike fit is better than static bike fit
4) Cycling is a sport of repetition
Louise Hudson, Sportsister
The Women's Sports Magazine
Select a sport
Find out how to get started, training plans and expert advice.