Pre and post natal fitness guide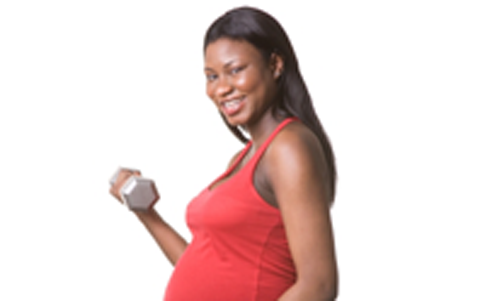 During pregnancy, exercise can be hugely beneficial to both mother and baby.  Sportsister guides you safely through the pre and post natal period with help from the UK's leading exercise specialist, Jenny Burrell.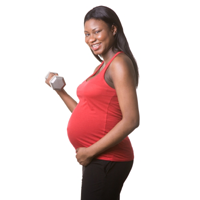 "When you are pregnant your top priority is the wellbeing of you and your baby,' says Jenny 'It's not a time to achieve goals, lose weight or learn new skills."  If you exercised regularly before your pregnancy there is no reason why you shouldn't continue to do so.
"It's important to remember that pregnancy is just a stage of life – not a disease," says Jenny.  "You have to be sensible and listen to your body, but if you're fit and healthy, it's usually safe to continue with the exercise you are doing, whilst it's always important to be cautious. Women often under-exercise during pregnancy."
Benefits for two
The benefits of exercising when you are pregnant extend to both mother and baby. "On a mental level, exercise releases endorphins which make you feel good," says Jenny, "but exercise and especially core work also helps to reduce the postural changes which occur during pregnancy as well as the aches and pains associated with them."
Core exercises help to develop strong abdominal muscles which can make delivery easier while studies have shown that if you train your pelvic floor during pregnancy you are less likely to suffer with urinary incontinence during the post natal period.  Another study published earlier this year found that overweight or obese mums are more likely to have larger babies which could be at higher risk of health problems later in life.
Obviously some modifications are necessary to your training programme but the most important thing to do is to listen to your body as it will tell you if you're doing too much or if something isn't right.  "Avoid methods of exercise where you're at risk of impact to the belly," says Jenny, 'so no bungee jumping, trampolining or scuba diving! If you're used to working out with weights, it's fine to continue, but you may find you need to reduce the amount you are lifting."
Expectant mothers also need to be careful not to raise their core temperature too much, especially in the first trimester as this poses significant health risks to the baby. "Exercise in environments that are well ventilated and not too hot and stay hydrated throughout your session," says Jenny who also stresses the importance of exercising at a level where your breathing and oxygen consumption aren't compromised.  "If you're out of breath then the oxygen supply to your baby will be reduced," she says.
"If you're already fit and active it's fine to exercise every day, a 30-45 walk or swim is perfectly safe," says Jenny. "If you aren't use to exercise then pregnancy isn't the time to learn brand new skills.  Stick to activities like walking, aqua and pregnancy yoga."
Training to be a mum
Jenny is a big advocate of functional exercise which prepares you for being a mum and all the day to day movements and activities associated with it.  "Squats will train you for picking up your baby, pulling and pushing exercises will help you build the strength you need to manoeuvre the pushchair while rotational exercises will make all the difference to things like putting your baby in the car seat," she explains.  Jenny also rates power walking as a great post natal cardio activity.  "It really can be hard work – especially when you're pregnant!" She says.
After you've had your baby you can start pelvic floor exercises as soon as you feel ready to help prevent urinary incontinence.  More vigorous exercise should wait until after you've had you six week check up when your midwife or doctor will let you know if it's ok to start exercising.
"Following a normal birth, six weeks can be enough time for some mothers to recover, whereas others may need more time," says Jenny.  "Where a C-section was necessary or there were birth complications it can take around 15 weeks until you're ready to start exercising again."
Jenny recommends starting with some structured work for your core.  "During pregnancy the abdominals are stretched, you lose muscle tone around the tummy and the neurological connection between your brain and your core becomes deconditioned," she explains.  "It is essential to restore your core because it's the powerhouse of every movement you make.  If you don't have a strong core you're more likely to get injured when doing motherly duties."
Bye bye, baby weight
To lose your baby weight you'll need to do some cardio exercise.  Jenny's secret weapon for getting your pre-baby body back is boxing.  "It's great for your core and it's a super way to do interval training, regain your cardio fitness and lose fat.  It also tones your upper body and it's a great stress buster," she says.
How long it will take to regain your figure will depend a lot on how much weight you have gained.  "Whilst some people bounce right back to their pre-baby weight especially after the first pregnancy, it can take nine months for you to feel right again and regain your figure," says Jenny.
Jenny is the director of Burrell Education and has her own successful practice in West London.  She is the Pre/Post Natal Tutor for FitPro, the largest and most respected association for fitness industry professionals in the world. In partnership with Power Plate® UK, Jenny created Power Plate® Post Natal Assessment and Exercise Prescription, a unique workshop for post natal women. She is also co-creator of the unique DVD 'The Crunchless Core for Pregnancy™' the UK's first ever instructional DVD offering Functional Core Exercise pregnant women.  Find out more about Jenny at www.jennyburrell.co.uk
Kristoph Thompson, Sportsister
The Women's Sports Magazine
Image credit: Istockphoto.com
………………………………………………………………………………………………
Related stories:
Mums to Be – Pre-natal exercise

Lucy and Lottie Get Fit- Let's go mummy

………………………………………………………………………………………………
Select a sport
Find out how to get started, training plans and expert advice.