From Arch to Arc – my journey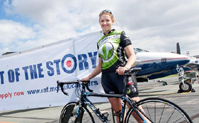 Rachel Cadman has recently become the first woman to complete the Enduroman Arch2Arc Challenge – an 87 mile run London to Dover; 22 mile swim Dover to Calais; 181 mile cycle Calais to Paris.
Here the 30 year old RAF Flight Lieutenant shares her epic journey with us.
It had been particularly hard to taper my training for the event, not least because I didn't have a fixed start date. It all revolved around the swim and having the best conditions for it, so I had been obsessively observing wind maps online.
Sunday August 21, was looking good for the Channel so I planned the start of the run to coincide that. However, I could only plan. The 'all clear' depended on the pilot of the support boat.
When he did give me the thumbs up it was go, go, go from then on. Only then did it dawn on me what I'd let myself in for.
Getting to the start line in London, the traffic was my first snag. We'd planned to start at 3pm but I was late. When I did set off around 3.20pm there was a smattering of applause from supporters and well-wishers. My parents had flown over from France to support me and the team from Herbalife, my sponsors, were also there to wish me well.
The run
It was a bit daunting. I'd run 50 miles before but not 80 and I ddin't know how my body would handle the distance. I just prepared myself to take it really steady.
I knew there were people around me with whom I'd trained who had bucketloads of experience, including my fiancée Adam and the Enduroman director, Eddie Ette, the world record holder for the event. Some people suggest not having those closest to you on your support team as it can make you too emotional but I knew I needed Adam and his Dad, Michael, with me every step of the way.
I found the first 20 miles quite tough. I always do. It takes me a while to settle down. At Swanley around the 20-mile mark I stopped and had a bite to eat. Unfortunately nothing the nutritionists would recommend – chicken SuperNoodles, but they are easy to digest and an instant source of energy. Then it was a case of cracking on through the night.
I trundled on down the A20 into Kent, walking up the steeper hills, rehydrating and generally pacing myself. The miles ticked by. I passed Maidstone and the next target was Ashford. At the ten-hour mark I felt good but I knew that the next hour or so would be when my body would start telling me it needed to sleep.
I passed the 53-mile mark. This was a real milestone for me; the furthest that I had ever ran. But as the dawn broke I felt so tired, not so much through the physical exertion but the sleep deprivation, which was playing on my emotions.
I started worrying about not running quickly enough, and was doing mental calculations about my running time eating into my rest and recovery time for the swim. Altogether it was quite a low point and there were some tears. Part of me was yearning so much for bed while the other part was garnering support from the thought of people supporting me. And, of course, there were the charities – great causes that need support.
So, just after 4am I crawled into the support vehicle and power-napped for 20 minutes. This helped, allowing me to battle on for 12 miles to Ashford where I breakfasted on porridge (yum!) and hash browns which Adam forced me to eat for the fat and energy (yuk!). After changing my kit, having a quick wash and teeth clean I felt much better and ready to face the last 27 miles. Target: Folkestone, then Dover.
I ran and walked now and the thing, or things, that I was aware of most were my feet. The constant pounding had taken its toll on them and they throbbed with each step I took.
Before I got to Dover I stopped at the Battle of Britain Memorial at Capel-Le-Ferne. Being in the RAF means that 'the Few' and especially those who gave their lives are never far from my thoughts. I couldn't run past the memorial without paying my respects.
As I ran onto the seafront there was Mum and Dad to bring a smile to my face. It was 23 hours, 21 minutes and 08 seconds after setting off from Marble Arch. In an agony of sore feet I never wanted to run again.
The swim
After an ice bath to calm the damaged muscle tissue, a Herbalife Formula 1 recovery shake to get some energy back and some welcome sleep I awoke to a bright day and a breakfast of porridge, fruit and yoghurt and crumpets.
The swim was my strong point. I'd been here before with the two Channel relays so I understood what the Channel might throw at me. A solo swim was going to be somewhat different but I had put in the hours of training and felt I had a good chance. If anything was going to beat me it would be the weather. If things got too rough the pilot had the responsibility to call off my attempt.
I felt my usual nervous self before the start but I settled down in the water. It had been 24 hours since I arrived in Dover and I had only done a half mile or so when the throb of engines made me look up. There was the Lancaster bomber of the Battle of Britain Memorial Flight circling me as a good luck gesture. It was a huge moment and a very proud one. I'd been honoured by the service and I felt even more determined to finish.
During the swim I was fuelled mainly by carbohydrate energy drinks. The process isn't sophisticated! I had been hoarding small milk cartons for weeks and we tied some string to them and the crew threw them to me over the side of the boat. I lay on my back and tried to keep kicking in the direction of France as I ingested the contents as quickly as I could, before throwing the carton back in the vague direction of the boat, and getting back to the task in hand.
As the night wore on the tide swept me northwards and I began what was to become a 34-mile looping arc towards Calais. More menacing was the wind, which began to buffet the high-sided support boat, so much so that the pilot had difficulty staying close. This meant that at times they lost sight of me in the swell.
There was a bit of a discussion going on more than once, unknown to me, between the Enduroman adjudicator (and founder) Eddie Ette and the pilot who wanted to call it all off. I was nearly pulled from the water at the 4 hour and the 10 hour point simply for safety reasons. In the end Eddie suggested that the pilot did the steering and I did the swimming because I was looking confident and strong in the water.
As dawn broke the French coast looked deceptively close, I knew that it would take longer than whatever I anticipated and I still had a good few hours of swimming left. Although it didn't feel like it I was slowly making headway to the beach at Sangatte, just outside Calais. Eventually there was the surf and I heard a shout to stand up. I waded up the beach and there were Mum and Dad again. My lips were swollen with the saltwater and I felt shattered. But I'd done it, in 16 hours and 33 minutes.
The cycle
The rules of the race insist on me leaving Calais by bike within 12 hours of arriving so I was in the saddle by Monday evening. I had slept and eaten and was in a positive frame of mind. I knew I could do it now. Only injury or some sort of unforeseen event could stop me reaching Paris.
As the night closed in the sky ahead of me flickered with an approaching thunderstorm. For hours as I bowled through the undulating landscape of northern France the lightning flashed and forked ahead of me. It was an amazing natural display.
Eventually, as I rode into the storm the air cooled and the rain fell hard. It affected my visibility slightly but I ploughed on. I had planned to put 50 miles between myself and Calais before stopping for a rest. I felt so good that it was nearer 80 before I crawled into the support vehicle and slept.
Two hours later, at daybreak on Wednesday, I was off again. This was it, the last stretch. My spirits were high and by lunchtime I was comfortable enough to stop by a river and picnic with the support team.
There was only the Paris traffic to slow me now and as I entered the suburbs routefinding became a priority. Suddenly, I was passing sign after sign for the Arc and the Champs Elysees. My heart leapt.
The final mile or so was a stop, start affair as I came across traffic light after traffic light, slowly threading my way between the cars, tourist buses and scooters. The Arc reared above me. It was my Arc. L'Arc de Triomphe. My Arch of Triumph. I'd done the cycle in 20 hours and 16 minutes.
In total it was 97 hours (four days and one hour) and 37 minutes since I left Marble Arch. The world record of 81 hours may be beaten one day but I will always be the first woman to complete the Arc2Arch Challenge.
For information, photos and video of Rachael's astonishing Enduroman attempt visit:
www.raf.mod.uk/careers and www.facebook.com/rafcareers
Rachel's charities for the challenge were: Help For Heroes and Shelterbox.
You can contribute at: www.justgiving.com/rachaelcadman (for Help for Heroes) or www.justgiving.com/rachaelcadmanshelterbox (for Shelter Box)
Rachael is sponsored by Herbalife.
Rachel Cadman, Sportsister
The Women's Sports Magazine
Select a sport
Find out how to get started, training plans and expert advice.