Tips to get started in Stand Up Paddle Boarding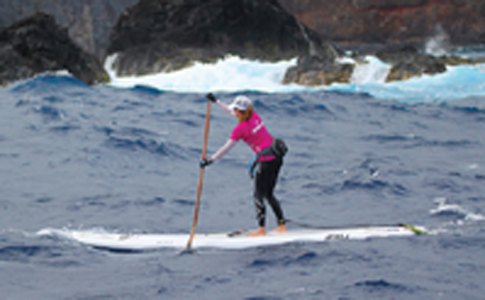 Next month Sportsister's Clarissa will join hundreds of other competitors at the WWF Blue Mile event in London. As part of her Year of Ultimate Challenges (check out her blog here) Clarissa is attempting to Stand Up Paddle Board (SUP) for a mile across a resevoir in North London.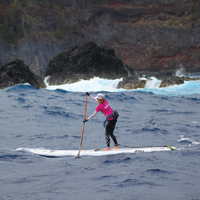 We've teamed up with The Blue Mile, and their event partner Naish Surfing, to provide you with some top tips if you are interested in having a go at this fun water sport.
1. Get involved with a club locally. It's more fun, safer, and you'll get great advice on where to paddle, equipment to use, and how to improve your technique.
2. Don't overlook what a social sport this is, and clubs are a great way to make friends. Clubs around the UK can offer a variety of sessions during evenings and weekends from fitness classes to family fun paddle sessions or exploration paddle trips. Some clubs can also offer storage for those struggling to transport/store their own equipment. Many will also offer hire, and coaching opportunities.
3. Before buying equipment, seek advice from your local water sports store – one that stocks SUP. The range of equipment is vast and often specific to conditions, body size, and desired riding style. The right board and paddle will make it fun and help you to develop your ability but the wrong equipment can mean you end up needlessly frustrated. Boards are designed in three main categories; Flat water/race boards (Glide series), wave boards (Hokua Series) and all-rounders (Nalu and Mana Series).
4. Find flat, sheltered, water to learn and develop your skills and technique. Inland waterways can be perfect for this but please check who controls access and what restrictions apply.
5. BSUPA (British Stand Up Paddle Association) promotes SUP in the UK and it's worth becoming a member to keep up with news, find out about forthcoming events, and to have a point of contact for any queries you have, safe in the knowledge that you are getting sound advice.
6. Know your limits. SUP is an incredibly easy sport to learn with most people being on their feet in just a couple of minutes in good conditions. This does not mean that you should immediately find the nearest surfers beach and make a nuisance of yourself. Learn a step at a time, in a safe environment, and seek guidance from instructors before pushing outside of your comfort zone.
7. BSUPA can provide a list of accredited centres that can deliver structured SUP courses at all levels – from complete beginners to those wanting to take on breaking waves and longer paddles.
8. Tailor your paddling to meet you fitness requirements. SUP can be as gentle or physically demanding as you require. Emphasis can be put on toning and can be a great workout for the core giving you a stomach to be proud of. Many clubs offer fitness classes working on strength, endurance and even yoga classes on SUP.
For step-by-step, online, SUP lessons go to: www.naishsurfing.com/how-to-sup
To find out more about The Blue Mile challenge just visit bluemile.wwf.org.uk
Sportsister, The Women's Sports Magazine
Image credits: Naish Surfing – RLopossa01, BBangerter11, EAeder39.
Select a sport
Find out how to get started, training plans and expert advice.