A beginner's guide to cycle touring
I've just pedaled 1000 miles through New Zealand. But I'm not a cyclist. At least I don't think I am. In any case, I certainly wasn't a cyclist when I got on the plane at Heathrow in April, bound for Christchurch.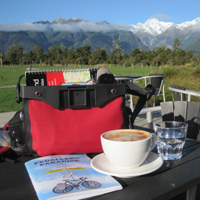 My bike was boxed up in the hold of the aeroplane, along with the instructions I'd written to remind myself how to put it back together.
My panniers (bags that go on your bike) were packed to the brim with all my new cycling gear. I felt excited. This was going to be a big adventure, not least because I'd never done anything like it before, not even for a weekend.
Cycling around New Zealand was not a big dream that had been years in the planning. Far from it, in fact. Travelling by bike was an idea that first struck me when I took my bike with me to London, where I was living. In six months using my bike as transport I saw more of the city than I had done in the two years previous. What's more, I saw it at a wonderful pace. Slow enough to take in not just the sights, but the smells and sounds (even though they weren't always pleasant), and fast enough not to be frustrating.
How great would it be to see another country at this same pace? Travelling by bike would be perfect, I decided, allowing me to stop whenever and wherever I wanted, to take my time; and to challenge myself physically.
It has been the ride of my life. And the biggest thing I've learnt is that cycle-touring is not just for "cyclists". Anyone can cycle tour. If you're considering a weekend away or a prolonged pedal further afield, here are a few tips I've picked up on my own adventure.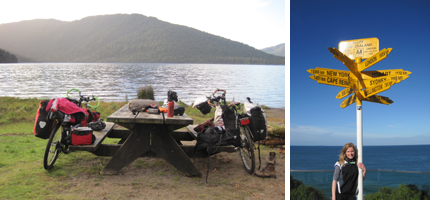 Planning your trip
The beauty of cycle touring is…touring. So pick somewhere you really want to visit. There's nothing like an amazing view to distract from tired thighs and overworked lungs. My view was a roaring ocean on one side and rainforest on the other along New Zealand's west coast. Yours could be anything you want to it be. A note though: As the plane flew over New Zealand I thought "isn't it beautiful?" and then "isn't it hilly?" I hadn't really considered the hills.
Consider the hills: Decide what level of physical challenge you want. Whether you do five miles in a day or fifty, I guarantee you'll have an adventure. Allow yourself plenty of time to enjoy your journey. Cycle touring is not to be rushed! If you want to do big distances from the offset you'll need to train beforehand. Or you can start with shorter distances. In my first week I finished cycling by mid-afternoon and spent the rest of my day exploring.
Don't over plan. Unintentionally, 400 miles of my 1000 mile trip took place in nine consecutive days. It was exhausting but rewarding. I like to think that my inconsistent approach to daily distances means my plan was flexible, and all the better for being so. The rest of my trip was more relaxed. I had just as much fun off the bike as I did on two wheels – dolphin watching, hiking and eating cake. Yes, it's true: you need a lot of cake when you're cycling!
Get a good map. You can use a GPS device and I hear there are some fantastic smartphone apps. But you should have a map as back up.
Know your bike (at least a bit). You need to know how to change a puncture. If you're going on a plane you'll need to take off the pedals, front wheel and handlebars. Don't be alarmed by all this. Just think of it as a big jigsaw. I went to Top Mark, my local bike shop in Barrow. They showed me how to do everything I needed to do and gave me a box to pack my bike into. Amazing.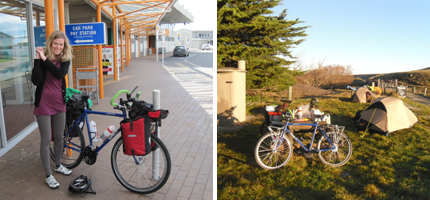 What equipment do I need?
Your bike. If you're not sure if your bike is up to the job, take it to a bike shop and tell them what you intend to do. They'll be able to advise on what, if anything, needs to be modified.
A comfortable saddle. My leather saddle, in combination with padded cycling shorts, meant I didn't get saddle sore at all.
Panniers or a bike trailer to carry your stuff.
A horn to toot hello as you ride past people. Oh and to warn them to move out of your way!
A helmet = a must
Everything else is down to your preference. You might need camping gear, musical instruments (I saw a guy with a guitar strapped to the back of his bike), cookie making ingredients (in my opinion worth the extra weight to have fresh baked goods at all times!) You can take anything you want because it's you who'll be transporting it every revolution of the way.
If you're in any doubt at all, believe me, you can go anywhere you want on your bike, and for however long. You just really have to want to. If that's what makes you a cyclist, then maybe I am one after all. And maybe you are too.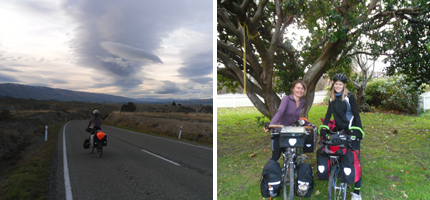 My New Zealand highlights
The freedom of the road! I laughed out loud with joy as fields of sheep and deer turned their heads and watched me pedal by.
People. Chats over cups of coffee, stargazing on Doubtful Sound, and pedalling with Polish Paulina, who I met in a café and ended up cycling with for five weeks. I went on my trip on my own but was never really alone.
Nature. I wasn't just looking at it. I was in it. It doesn't get much better than that.
Cake. Say no more.
Some websites to inspire you and help you plan
Pedallers' Paradise (Paradise Press): New Zealand cycling bible
Stanfords: Maps, travel books and guides, travel information
Wiggle: Online cycle shop
Map my ride: Plan your cycling route
Warmshowers: Hospitality for touring cyclists
Couchsurfing: worldwide network for making connections between travellers and the places they visit
Hostelling International: book hostels worldwide. Discounts for touring cyclists in some countries.
The Hungry Cyclist: Blog for food explorer and cyclist, Tom Kevill Davies
Al Humphreys: Adventurer, cyclist, author, motivational speaker
Website of Astrid Domingo Molyneux, who cycled round the world starting in 2006.
Royal Geographical Society: Maps and expeditions
British Cycling: Governing body of cycle sport in the UK
Caroline Gilbert, Sportsister
The Women's Sports Magazine
Select a sport
Find out how to get started, training plans and expert advice.