Get set for an aquathon
Ahead of next month's Sheactive Every Woman's Series Aquathon, Sportsister went along to a training session in Hyde Park to learn all about this run/swim event.
The boom in women only sports events just continues, and a big part of that are multi sport events. Duathlons, which consist of run/bike/run and triathlons, which are swim/bike/run, are now a regular fixture on the events calendar.
But new for this year is a women only aquathon. Perfect for those that are not keen on a bike leg, this event involves the two disciplines of swimming and running.
The Sheactive Every Woman's Series Aquathon will be held in Hyde Park, London on July 9.There are two distances to enter: Novice is a 300m swim and 6.5km run or Challenge which is 600m swim and 10km run.
What you need to know
Sportsister took part in an aquathon master class with trainers Simon and Sarona from The Lift Fitness www.theliftfitness.com.
Here are their top tips for training for an event like this:
– Vary the pace and intensity if your training. Long, slow sessions are good for building endurance; short, fast sessions are for speed.
– Plan your training in 4 week cycles, increase training for 3 weeks then reduce it on the fourth. This will help prevent over training injuries.
– Include at least one day of strength and conditioning training per week.
– Have at least one rest day per week. Exercise can be addictive but you must rest!
– Include brick sessions where you train for two disciplines back to back.
– Trial different fuel and hydration products during your training and then on race day stick with what you know works for you.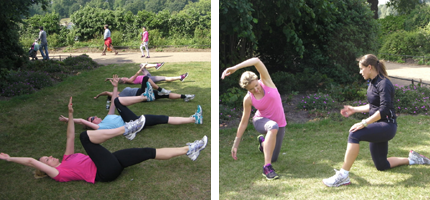 What kit do I need?
Multi sport events are a kit junkie's dream. The list of things you could get is almost endless, but is it possible to take part in an event like this with just a few key items.
Swim – For many events wearing a wetsuit is compulsory. However if the water temperature rises above a certain level it is possible that wetsuits will be banned so do check with race organisers.
It is usually possible to hire a wetsuit through the event if you do not own one. If you have never swum in one before you may find it strange at first, but it does keep you more buoyant and if you are a little squeamish about swimming in open water you may find you prefer it to just being in your swim suit. If you can, it's recommended that you practise swimming in one, and getting it on and off, before your event.
You will also need a swimsuit, goggles and a cap. Put your cap over your goggles to help them stay secure, you don't want them getting knocked off at the sometimes chaotic and crowded start.
You may also want to wear a sports bra under your swimsuit so that you are ready for the run leg.
Run – Some people may have a trisuit which is worn under your wetsuit, is quick drying and can also be worn for your run (and bike leg too if it's a triathlon event).
If you don't have one, after your swim strip off your wetsuit. Have your run outfit ready at the transition zone. Shorts or capri leggings and a tee or vest is probably best. You'll also need your running shoes and socks. Make sure you have a towel to dry yourself off.
Top tips for the swim leg
We asked Speedo triathlete Helen Jenkins (pictured) to share her top tips for open water swimming. Helen competes in the Speedo TriELITE Wetsuit. For more information go to www.speedo.co.uk.
– The swimming pool has a lot of guidelines and lane markers that will direct you in a straight line whereas the open water doesn't, making training in the pool a lot easier. To try and recreate the environment of open water in your training session try swimming with your eyes closed in the pool. Start with three or four strokes at a time and build up to more.
– The transitions between the different disciplines are just as important as the swim/ run itself as a quick transition can help shave off valuable time. Make sure that you can get your wetsuit off quickly and effectively and that all of your equipment is laid out ready for you to put on.
– If you're a beginner to open water swimming my advice would be not to come out of the starting blocks too fast, a lot of people start swimming and want to be at the front of the pack but this can tire you out for the rest of the event and also be a bit overwhelming when you're starting out.
– It is great when you are swimming with the current as it can dramatically increase your speed in the water but it can just as easily slow you down if you are swimming against it. When you are racing it is important to remember that the conditions are the same for all of the other competitors – so do not get too hung up on your personal time if the swimming conditions are not ideal.
– The most important thing is to have fun.
Just head to www.everywomansseries.co.uk to enter the Hyde Park aquathon, good luck!
Louise Hudson, Sportsister
The Women's Sports Magazine
Select a sport
Find out how to get started, training plans and expert advice.