Event review: Moonwalk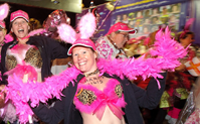 On Saturday May 14 Sportsister joined over 15,000 bra-clad women (and men!) to take on The Moonwalk – a marathon distance overnight walk around the UK's capital city.
Organised by Walk The Walk, a grant-making charity, the event was started in 1996 to raise funds for vital breast cancer causes. In addition to the Full Moon 26.2 mile distance, a Half Moon half marathon walk was available for those wanting a slightly shorter challenge.
From 7.30pm, walkers congregated in Hyde Park in a specially constructed pink marquee the size of two football pitches. A pasta meal and massages were available as preparation and on stage singers and dancers entertained the masses and created an all-inclusive and inspirational atmosphere, although nerves were clearly building.
Also feeling the pressure were several teams of celebrity walkers who included Loose Women's Andrea McClean, sports presenters Gabby Logan and Clare Balding and breast cancer survivor Jennifer Saunders.
"Training has been so much fun," Clare explained. "I'm an upbeat person so I hope I'll be the one keeping the rest of the team going." Gabby said her longest training walk had been 18 miles but she was ready to go for it: "I had a 3 hour nap this afternoon. I'm sure it's going to hurt but I think I'll be alright!"
After a motivational address from Walk The Walk founder Nina Barough and a minutes silence that moved many to tears, it was 11pm and time to move to the start line. My body, mind and unfortunate lack of training were about to be put to the test.
The first mile was fraught and frenetic as walkers took their first steps on the course. It was reminiscent of the mayhem of the first day of the NEXT sale with pushing and shoving as the fastest and most determined powered through. Being overtaken by hundreds made me immediately concerned about my own performance, but equally worried that these fast movers wouldn't be able to maintain their super quick pace. Seems I was wrong – many were racing the course and not just taking part.
Around Hyde Park, down The Mall and into Westminster, we settled into the rhythm. Despite the chill in the air, most walkers proudly displayed their decorated bras, some with flashing fairy lights which made for a few giggles. Through the Saturday night centre of London we travelled to the cheers of tourists, weekend revellers and policemen alike.
Organisers position water stations and toilets every 4 miles or so and, in places, bananas and sweets were on offer too.
By the 8 mile mark at Tower Bridge I was beginning to suffer. My legs were heavy and blisters had begun to form. It was 1am, it was cold and there was still 18 miles to go. I reached a low which was only compounded by the Half Moon walkers splitting off over Waterloo Bridge to head for their finish. Us Full Mooners weren't yet half way. The chatter and excitement of the first few miles faded and, as we walked through this less busy part of the course, there was near silence.
Along the South Bank and over Vauxhall Bridge, we turned west to walk alongside the river. Without the Half Mooners the numbers were reduced and, now four hours in, the field of walkers had stretched into a long, slow caterpillar of bra clad ladies. The return part of the course at around 23 miles passed along the opposite side of the road and, to our surprise, the lady in number one position appeared and power walked past us. We cheered her on and couldn't quite believe how far ahead of us she was – around 3 hours? Cue a further downturn in mood.
We passed the half way stage, crossed Chelsea Bridge and entered Battersea Park. Turning north we crossed Albert Bridge and, with a breath-taking view across London, could see that the sun was beginning to rise. Somehow this gave me hope. I knew we were entering the last third of the walk. I decided not to give in to my growing number of blisters and stiffening joints and instead summon the courage to complete my challenge. I'm not a quitter. If 15,000 women can do it, then so can I.
We crisscrossed through Fulham and Chelsea on a route that I now can barely remember. London was beginning to come back to life and in my mind the finish line seemed a lot closer that it really was. Those last 7 or 8 miles were endless. Inadequate training meant my legs were now mercilessly painful and, I have to say, I burst into tears on a couple of occasions. I badly wanted to stop but even a slight slowing down or momentary pause made starting again virtually impossible. I must. Get to. The finish.
We re-traced our steps along The Mall, around Hyde Park Corner and into Hyde Park itself and the crowds of supporters began to build. Unlike the London Marathon, this had been a largely supporter-less event so the appearance of these groups of cheerers was a joyous change. Finally the marker for mile 26 and then the finish line came into view. We'd made it. The time was just after 7.30am. We'd completed The Moonwalk in 8.5 hours.
I spent the whole of the following day in bed, after being piggy backed to it by my husband. My legs seized up and I could do nothing but sleep. I'm a fit, active and sporty person but, in retrospect, was naive to think that I didn't need a structured training plan to successfully and safely complete the walk. It was at least 4 times longer than anything I'd ever walked before but I'd foolishly thought "Walking? Blurgh! I do that everyday."
I'm not sure I'll attempt The Moonwalk again. I'm glad I did it but I'm not 100% certain that my body and mind could take it again. I would however whole heartedly recommend it to anyone who wants to take on a personal challenge for the good of others. But take warning; it's not to be underestimated. It may not be a marathon run, but it is a marathon walk tackled overnight and there's no denying it's testing in every way.
Good points:
– The event was flawlessly organised
– The atmosphere among the Moonwalkers was one of positivity, achievement and camaraderie
– It's an event made all the more rewarding by the worthy cause it supported.
Bad points:
– There's little crowd support so you can't rely on that to lift spirits during the long night
– Not a bad point as such but please don't underestimate how challenging walking this kind of distance can be
Amy Swan, Sportsister
The Women's Sports Magazine
With many thanks to Rachel Brown, my fellow Sportsister and Moonwalk partner, and to all who sponsored and supported us.
*The SunWalk London takes place in Battersea Park on July 24th, to sign up and for more information please visit: www.walkthewalk.org*
Select a sport
Find out how to get started, training plans and expert advice.