Athletics: Pavey beats Radcliffe in Bupa London 10,000 race
Paula Radcliffe suffered defeat on her return to racing yesterday as Jo Pavey stormed to victory in the Bupa London 10,000, part of the Run Britain series.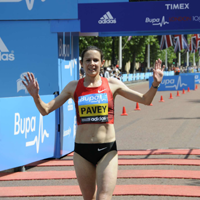 Radcliffe was hoping for a victorious come-back in her first competitive appearance for 18 months, but the world record holder was no match for Pavey who led from the start to take the UK 10km championships title.
While Pavey powered home on a beautiful London morning in 32:22, a sore back left Radcliffe struggling to find her rhythm and the 37-year-old could only finish third in 33:17, 29 seconds behind British cross country international Gemma Steel.
"It was a bit of a disaster for me," said Radcliffe who has recently recovered from bouts of bronchitis and laryngitis. "I didn't see Jo after 4km. I just couldn't stay with her and from that point it was just terrible for me. I just wanted it to be so much better."
……………………………………………………………………………………………………..
Related stories:
Athletics: Pavey prepares for Radcliffe challenge
Athletics: Paula Radcliffe pulls out of comeback race
London Marathon: A double Kenyan win
……………………………………………………………………………………………………..
……………………………………………………………………………………………………..
Radcliffe finished nearly three minutes outside her world best, clearly hampered by a lower back problem which flared up four weeks ago.
"It's very frustrating," she added. "I had some problems with my back coming in to the race, but I thought it was going to be alright. I wanted to come back and at least do myself justice but I didn't. It was rubbish and I'm embarrassed."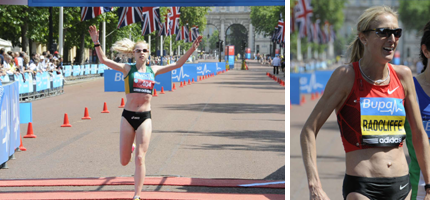 While Radcliffe had a frustrating morning, Pavey enjoyed another morale-boosting performance following her 2:28:24 debut at the Virgin London Marathon six weeks ago when she pencilled her name in for Olympic selection.
"I loved it out there; it's such a fantastic event," said Pavey. "I would have liked a quicker time but my legs weren't quite ready after the marathon. It was a solid enough run, though, and it was nice just to get back out there and get on with it."
While Pavey led from the start, Steel made her move at half way, closing in on Radcliffe and moving into second before 6km. She quickly built a lead that Radcliffe couldn't close and was delighted to take second nearly half a minute ahead of her idol.
"I saw Paula and I was starting to catch her, but I couldn't believe it," said the 25-year-old. "I didn't know whether to pass her or not. Paula is my idol so I just didn't think I should be passing Paula Radcliffe.
"I hung back at first but at 5km I felt really comfortable and just went for it. I could see Jo but she had too much on me."
Radcliffe has already ruled out an appearance at this year's World Championships in Daegu, and she will now seek treatment on her back before deciding whether and where to run an autumn marathon as she seeks the Olympic qualifying time.
"I really wanted to come and run on this course and get used to it before the Olympics," she said. "It's such a great day and the atmosphere out there was fantastic, so I am really gutted. I just didn't have the turnover at all. My breathing was fine, but my leg just felt a bit dead and there was no power.
"Every time somebody passed me I kept saying 'go with them, go with them', and when Gemma passed I try to go with her but I couldn't. It was all I could do to stay relaxed.
"I've been training really hard since January and I should be in much better shape. I will need to run a marathon faster than I ran today."
Results
1. Jo Pavey (Exeter) 32:22
2. Gemma Steel (Charnwood) 32:48
3. Paula Radcliffe (Bedford & County) 33:17
4. Justina Heslop (Clapham Chasers) 33:20
5. Hollie Rowland (City of Norwich) 33:58
Louise Hudson, Sportsister
The Women's Sports Magazine
Image credit: Josh Pulman
Select a sport
Find out how to get started, training plans and expert advice.