Taekwondo: Jade Jones wins Taekwondo World Championship Silver
18 year old Youth Olympic Champion Jade Jones made history in Korea in the early hours of this morning by winning a silver medal on her senior World Championship debut.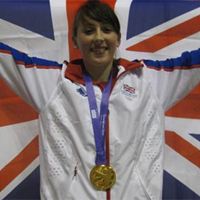 The Flintshire youngster burst onto the senior circuit earlier in the year, winning a gold and a bronze medal in two separate weight classes at the US Open in Texas, followed by silver at the German Open in Hamburg.
Jones began her World Championship campaign yesterday in Gyeongju with a convincing 11-1 victory over Iana Gagnidze of Georgia in the F-57kg class.
Next up was the much-fancied world number five Veronica Calabrese in the final 32. Jones overcame the Italian to set up a battle for a quarter-final berth with Rumeysa Sila Olcek of Turkey. Taking a 4-1 lead in the first round, the Brit was pegged back to 4-4 in the second before coming through with a hard fought 6-5 victory.
……………………………………………………………………………………………………
Other recent stories:
Taekwondo: Sarah Stevenson wins emotional gold
Taekwondo: Jade Jones completes medal treble in Hamburg
Taekwondo: Jade Jones and Sophie Dickson fly the flag for GB
Taekwondo: Walkden misses out in Moscow
……………………………………………………………………………………………………
……………………………………………………………………………………………………
Rounding off an incredible day for the British team, Jones led 2-1 in the second round of her quarter-final before Senegal's Bineta Diedhiou pulled out through injury, giving the Welsh athlete a semi-final place and guaranteeing her at least a bronze medal in her first appearance at the Championships.
Despite this guarantee, Jones made it clear that her intentions were to return to action this morning with a desire to go all the way. This determination was clear to see as she overcame a 6-2 deficit in her semi-final against the former European medallist Marlenee Harnois of France with an 8-7, sudden-death win to set up a final with the reigning champion Hou Yuzhuo of China.
It wasn't to be for the young athlete as the tables were turned in the final with an agonising sudden-death defeat, however her emphatic success at the Championships will have gone a long way to justifying one of the two available female slots for Team GB at the 2012 Olympics in London.
Louise Hudson, Sportsister
The Women's Sports Magazine
Select a sport
Find out how to get started, training plans and expert advice.