Calderdale Netball Club from Halifax was officially crowned winners of the national netball competition 'Be the Team 2011' at a special prize giving earlier this month.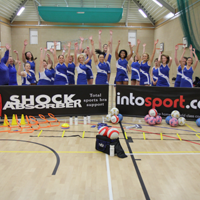 The national competition, devised by Into Sport Group and supported by England Netball, Shock Absorber, Kukri and Sportsister Magazine, invited netball teams from all over the country to submit five hundred words explaining why they should 'Be the Team'.
Calderdale Netball Club was selected from over one hundred entries to be the lucky recipient of a prize haul worth £3,500 including Kukri kit, Shock Absorber sports bras, equipment, coaching courses and a brand new club website.
……………………………………………………………………………………………
Related stories:
Netball: Thunder's one goal wonder
Netball: Dragons steal Lightning's bolt
Netball: Lightning strike again
……………………………………………………………………………………………
……………………………………………………………………………………………
Commenting on how the competition was initially conceived, Into Sport Group Managing Director Colin Miles, said:
"We have been involved with netball for some time now through the Shock Absorber netball academy at our free to access sports and exercise coaching website, intosport.com.
"Our aim through this competition was to really capture the imagination of the netball community whilst also raising awareness of this quality coaching resource.
"We were overwhelmed with the amount of entries we received and impressed at the effort some teams put into promoting their campaign through social media and video.
"It was great to meet all the ladies at Calderdale Netball Club today and we look forward to helping the club to develop in the future."
As part of the prize package, Into Sport Group spent part of the evening filming two special videos for the clubs brand new website. The first was to commemorate the club winning Be the Team 2011, with the second providing an introduction to the club, which will feature on the homepage of the clubs website.
Members of the team took part in interviews, showed off their skills for the cameras and finished the evening off with a 'Soccer AM' style half court shootout.
Kate Ineson, who entered the competition on behalf of the club, was understandably excited for Calderdale to be named winners of Be the Team 2011:
"It's been a fantastic evening and I'm really happy for the club. These prizes will really help Calderdale to attract new players and to improve our results. On behalf of the whole club I would just like to say a big thank you to Into Sport Group!"
Louise Hudson, Sportsister
The Women's Sports Magazine