Rugby: Spencer steps down as England Captain
Catherine Spencer, who most recently led England to the 2010 Women's Rugby World Cup Final, has stepped down as England Captain ahead of the new international season.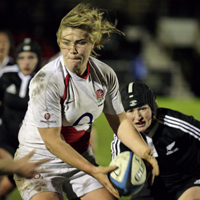 Spencer was England's captain for three seasons, taking over the captaincy armband in 2007 from Susan Day. Since then the Bristol No.8 has led England to three successive RBS 6 Nations titles, two Nations Cup crowns and last year's Rugby World Cup final which England narrowly lost 13-10 to reigning world champions New Zealand.
Spencer, who remains in the England Elite squad and plans to be involved in next month's RBS 6 Nations championship, said: "My decision to stand down as England Captain has, without doubt, been one of the hardest decisions I have ever had to make. There are many reasons why I would dearly love to continue being England Captain but the time is right for me to step down.
……………………………………………………………………………………………………….
Related Stories:
Rugby: New Zealand overcome England to retain World Cup crown
Rugby: Rachael Burford's World Cup blog – part 6
……………………………………………………………………………………………………….


……………………………………………………………………………………………………….
"I wish my successor all of my support; only when they become England Captain will they fully understand what an incredible honour it is and only then will they experience the amazing emotions that come with leading an England team out on to a pitch."
England Head Coach Gary Street added: "I would personally like to thank Catherine for the excellent way she has conducted herself on and off the pitch – she has been a fantastic role model for any aspiring player."
England's RBS 6 Nations Fixtures
Feb 6th Walesv England –  TBC – Bridgend RFC
Feb 12th England v Italy – 4.30pm – Esher RFC
Feb 27th England v France – 10.5pm – Worcester RFC
* March 13th England v Scotland – 5.15pm – Twickenham Stadium
March 18th Ireland v England – 7.30pm – Ashbourne RFC
Kim Mogg, Sportsister
The Women's Sports Magazine
Select a sport
Find out how to get started, training plans and expert advice.