Getting started: Basketball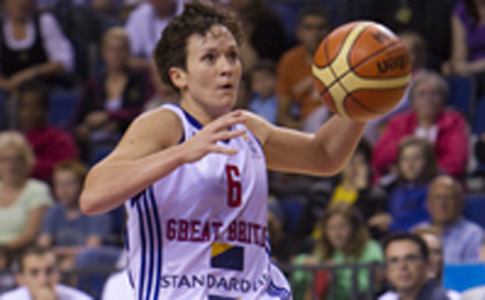 There are 275,000 participants of basketball in the UK which includes 66,000 female players. It is an extremely social game which can be played all year round with hundreds of indoor and outdoor courts across the country. GB Standard Life player, Stef Collins shares her guide to get you started in this sport.
The Basics
Basketball is a fast paced and exciting game for two teams, each made up of five players who aim to score points by shooting a ball into their opposing team's basket.
A game consists of four quarters each lasting 10 minutes, with a 15 minute break at half time. If a game should be tied at the end of the fourth quarter, an additional five minutes, called overtime, is added and this continues until the tie is broken.
There are some time restrictions which can dictate play but also the length of an overall game:
• Coaches may call five timeouts each lasting 60 seconds during a game.
• Teams have a time limit of 24 seconds from when they get possession to when they shoot the ball, making for a fast paced, action packed game at both ends of the court.
The basketball is moved around the court by players passing, throwing, or dribbling. Players can't move with the ball without bouncing it, referred to as dribbling, as this would be a violation called travelling.
…………………………………………………………………………………………………………
Click here for more getting started guides and training plans on Sportsister
…………………………………………………………………………………………………………
…………………………………………………………………………………………………………
The court
At each end of the court are backboards with baskets. Each team has a basket to defend and another to score in, this switches round at half time.
A game of basketball begins with a player from each team in the centre circle, the referee tosses the ball up in the air between the two players. The player to get their hand on the ball first will tip the ball back to a teammate, this is called the tip-off.
When a foul occurs, the ball is rewarded to the team who was fouled, often in the form of free throws. Free throws are taken from the free throw line which is 15 feet from the backboard.
The three point line is a semi circle in front of the basket. Any shot which is scored from outside this semi circle earns the player three points because of the distance from the basket and therefore the difficulty of the shot.

Scoring
In basketball a different number of points are scored from varying areas of the court and from different penalties awarded.
• When a team makes a basket, they score two points and the ball goes to the other team.
• If a basket is made outside of the three-point line, then that basket is worth three points.
• A free throw is worth one point but the number of throws awarded varies.
Positions
Centre: Centres are generally the tallest players and are positioned nearest to the basket. They make themselves open to shoot. On the defensive they look to block defenders shots. Centres are often good rebounders because of their height.
Forward: The next tallest players are often forwards, similar to centres they often play under the basket and drive for points and rebounds.
Guard: At 5'7" I am a guard and I find that being one of the smallest on the court, I have to create the tempo for the game, by dribbling or passing, along with providing a spark at the defensive end. I also look to disrupt the other teams offensive by making their options to pass,dribble and shoot as difficult as possible.
What to wear
I suggest light-weight mesh shorts with a cotton t-shirt. I prefer ones without sleeves due to the amount of running we do in training. A comfortable pair of trainers is also a must, they should be sturdy and offer support while running and moving laterally, and a good pair of socks avoids blisters.
Training
During a team session, we work on all aspects of a game including individual play such as ball-handling, shooting, passing, along with play making and defensive strategies. It's a lot of fun and we often play shooting games to get the team morale high. Shooting half-court shots is always a great way to end training, you rarely ever do it in a game but sometimes it's those plays that can win a game for you at the buzzer. I have made many lasting friendships from basketball. Being part of a team sport has so many positives as a social outlet.
Basketball and fitness
Playing basketball will definitely help you tone up and increase your general level of fitness. Extra gym workouts are great on top of basketball. I do core sessions and sprints on the treadmill to help me maintain my fitness on the court. Games last for 40 minutes, so you run a few miles during a full game although there is a lot of stop/start action with quick bursts of energy. There are also many different directions of movement and the change of direction on top of the stop/start action is very demanding on the body.
When I first started playing basketball I saw big improvements in my fitness, I was able to run for longer, and I also felt stronger. Basketball ensures that your whole body is engaged at different stages.
Joining a team
If you want to give basketball a try there are a few tools available to help locate your nearest club.
For fun:
• Online classifieds website, GumTree is a good place to start for social groups of women playing in your area. Teams often look for new players to join them for fun and fitness, not necessarily those with a high skill level.
• You could also gather a few friends at a local basketball court to enjoy some friendly competition, and some exercise at the same time.
Professional teams:
• The England Basketball (EBL) website has a search tool to help locate a professional club in a local area
• Look into your local community centres too and see if there are any clubs that train there with open gym times. You could also email local coaches or development officers to get support and advice.
Watching basketball
Attending basketball games is a good way to learn new skills and tips from professional players.
In 2010, the GB Standard Life women's team made history when we qualified for EuroBasket 2011 for the first time. The EuroBasket competition takes place in Poland this year and tips-off on 18 June until 3 July 2011. You can watch the competition online at fibaeurope.com
When I'm not playing for GB, I play with Cardiff based, UWIC Archers. Supporting your local and University women's team is a great way to watch basketball in your local area.
Sky Sports also broadcasts selected men's British Basketball League games so you can catch UK games throughout the season on the TV too.
Stef Collins, Sportsister
The Women's Sports Magazine
GB Standard Life player, Stef Collins
Stef Collins, 27, has been with the national side for five years and received her 60th cap with the team last summer. Stef is also a member of the successful England Basketball team, the UWIC Archers, who are currently top of the Division One table.
Stef had an impressive college career at St Bonaventure University in New York which included being named Rookie of the Year and receiving honorable mentions in the Atlantic 10 All-Conference selections. Not surprisingly, she is considered one of the best offensive players in her school's history. Her professional career in Britain began in 2006-07 with the Rhondda Rebels, who featured in the EuroCup that season. Collins made the short journey across Wales to the Archers for the 2007-08 campaign.
Select a sport
Find out how to get started, training plans and expert advice.