Four of Oakley UK's female action sport athletes swapped their professional boards for road bicycles for Breast Cancer Awareness Month, cycling 300 miles to raise money for people affected by breast cancer.
British snowboarders Jenny Jones and Vicci Miller were joined by surfer Gwen Spurlock and skateboarder Lois Pendlebury as they cycled from London to Paris in a bid to raise significant funds for the Lavender Trust which is dedicated to supporting younger women with breast cancer in the UK.
Oakley UK has been a proud partner of the Lavender Trust at Breast Cancer Care since 2008 and this year they added four special edition sunglasses to the women's eyewear collection – Ravishing, Enduring Pace, Dangerous and Commit SQ – to raise further funds and awareness.
As advocates of a healthy and active lifestyle the company donates £10 from the sale of each of the four special edition sunglasses to the Lavender Trust.
…………………………………………………………………………………………
Related stories:
New Charity Challenge to support domestic violence victims
…………………………………………………………………………………………

…………………………………………………………………………………………
Oakley UK's Media and Communications Manager, Heather Pigott, explains how simply raising money through profits just wasn't enough: "In 2010 we wanted to get a little bit more personally involved in fundraising activities and to help raise awareness of this incredibly important charity."
And get involved they did! The team travelled through rural Kent and across the North Downs on the approach to Dover. Once across the Channel they traveled the 232 miles before celebrations in Paris, the whole time wearing their 'Commit' Oakley breast cancer charity edition sunglasses!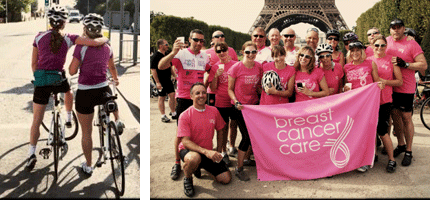 Breast Cancer Awareness Month takes place every October to increase awareness of the disease and to raise funds. As well as providing a platform for people to get involved and raise money, the awareness month also aims to remind women to be breast aware for earlier detection and to raise awareness of the work charities are doing.
It's easy to get involved, and you don't necessarily have to cycle to France to show your support! Why not wear it pink on October 29 to help raise awareness? See here for more details.
Jessica Whittington, Sportsister
The Women's Sports Magazine