Wish list: NikeWomen Hyperwarm Hoody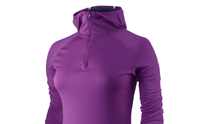 Check out NikeWomen's Hyperwarm Hoody, it's gone straight on to our wishlist. And don't miss our exclusive video of NikeWomen athletes, Sofia Boutella and Allyson Felix.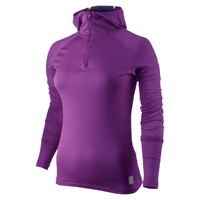 As the days get shorter and the temperatures fall it means adopting a whole new workout wardrobe. One thing that we are definitely putting on our wish list is this new Hyperwarm Hoody from NikeWomen's Holiday collection.
It's from the Nike Pro Combat range which houses the brands' compression and base layer garments. This warm streamlined hoody is perfect for outdoor cold-weather training and as the wind and rain howls outside as I write this, it's sounding better by the second!
As you would expect from Nike it comes in Dry-Fit fabric that pulls sweat away from the skin, there are bonded thumb holes so you can pull your sleeves right down to cover your hands and a neat little ponytail hole for when your hood is up.
Suddenly cold weather training just got a whole load more stylish.
Available: Mid October
Price: £45
Stockist: nikestore.com
The video below, exclusive to Sportsister, shows NikeWomen athletes Sofia Boutella and Allyson Felix testing out the Hyperwarm Hoody. Allyson Felix is one of the US' leading track and field stars. The 200m sprinter has one gold and two Olympic silver medals to her name as well as three world championship golds. Hip-hop and street dancer Sofia Boutella has danced for Madonna, Jamiroquai and Rihanna.
Louise Hudson, Sportsister
The Women's Sports Magazine
Select a sport
Find out how to get started, training plans and expert advice.