Cycling is a brilliant sport for keeping fit, but if you are training up for a sportive it is really important to build up your strength and stamina in a structured way.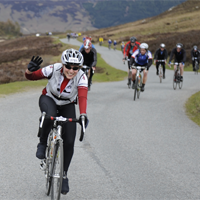 This summer thousands of people across the UK took part in The Prostate Cancer Charity's Tour Rides, organised in partnership with The Tour of Britain.
These sportives follow the exact route that the professional cyclists ride in The Tour of Britain and cover some spectacularly scenic countryside but they are no easy feat. There are different levels to tackle depending on your ability, from 175km or 70km in the South West and 161km or 80km in Stoke -on -Trent.
Professor Greg Whyte – who counts getting David Walliams across the English Channel and preparing Eddie Izzard for his multi-marathon efforts amongst some of his most memorable training credits – has put together this bespoke training guide for anyone wanting to get on their bikes this summer and show the pros how it's done.
Although elements of this guide can be applied to any cycling sportive, this training plan is focused on the South West 175km Tour Ride, arguably the most challenging of the all the stages in The Tour of Britain, and takes in some of the UK's most stunning and challenging coast to coast scenery.
To find out more about The Prostate Cancer Charity Tour Ride and to sign up for an event, visit www.tourride.co.uk.
Warming up - It is incredibly important to warm up before cycling. It is not only the legs and bum that take the strain during cycling, your back, neck and arms also work hard. Light aerobic exercise (easy cycling) followed by stretching helps ease you into action. Stretching before getting on the bike helps to prevent injury, improves your range of motion and enhances performance.
Preparing your bike – Making sure your bike is in good working order by having regular services is the first place to start your cycling training. Make sure that you have a helmet which is the right size, which means it is comfortable to wear and stays in place, and a pair of padded shorts. Before you set off for the Tour Ride make sure that there is plenty of air in the tyres and that you have your pump and puncture repair kit at hand just in case.
Cooling down - Cooling down after you cycle is just as important in reducing the risk of injury as warming up. Gentle exercise after a cycle gradually brings the body down to a pre-cycling state, and helps the heart rate and breathing return to normal. Try a few gentle stretches, similar to those performed before the ride and think of cooling-down as a warm-up for your next ride.
The programme

Session terminology
1. Hard interval cycling session. Interval training means changing how hard you are cycling from easy to very hard for different lengths of time. Interspersing periods of hard cycling with easier cycling is a great way to improve your aerobic fitness and cycling strength and speed.
There are a number of different ways of interval training: you can try a spinning class, the bike at your gym (most bikes have an interval programme), your own bike on a turbo trainer (a device for holding your back wheel allowing you to cycle without moving anywhere – great for training at home, indoors or outdoors), or on the road.
2. Aerobic session. To help you avoid overuse injuries in the early part of your training use different types of aerobic exercise including swimming, running, rowing or an aerobics class.
3. Strength session. These are best undertaken at your local gym. Seek advice from a personal trainer if you have no experience and/or you want some expert advice and support. Circuit training is a fantastic way to improve strength, and strength endurance, and training in a group can be a bit more interesting and fun. Remember never lift weights on your own.
The focus of your strength training should be your legs, bum and tum, although adding in upper exercise won't hurt in the early days to improve your general conditioning. Core stability is also important to improve your performance and help avoid injury.
4. Cycle session. During the cycle sessions you should aim for an intensity that allows you to just manage to hold a full conversation – it shouldn't be so easy that you can talk continuously yet at the same time it shouldn't be too hard that you have to stop mid-way through a sentence to catch your breath.
5. Tempo ride. The idea of a tempo ride is for you to go as hard as you possibly can for a fixed period of time – you should choose an intensity that means you can only just hold on for the target time.
Events to do
The Prostate Cancer Charity Tour Ride
There are different levels to tackle depending on your ability, from 175km or 70km in the South West and 161km or 80km in Stoke -on -Trent. These sportives follow the exact route that the professional cyclists will be riding in The Tour of Britain.
More info: www.tourride.co.uk
Evans Ride It!
A series of rides throughout the year with a distance and a location to suit all riders.
More info: www.evanscycles.com/ride-it
Action 100-Mile Bike Ride
These sportives run throughout the summer across the UK and raise money for Action Medical Research. Choose from 100 miles or 100km routes at most locations.
More info: www.action.org.uk/100
Download training plan
Click here – Sportive Training Plan – to download your training plan in an easy to print off and use format.
Image Credit: Russell Cheyne