Football: A match of firsts for Scotland in 2-0 win over Northern Ireland
Scotland made history twice during their match against Northern Ireland on Sunday in which they won 2-0 at Strathclyde Home Stadium in Dumbarton.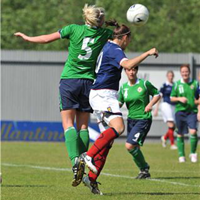 The first came when City striker Jane Ross joined the competition with 26 minutes remaining to bring the total of Glasgow City players on the pitch for Scotland to five, a new Glasgow City record. Defenders Emma Fernon and Rachel Corsie and midfielders Megan Sneddon and Leanne Ross were the other City players.
Another first came for Emma Fernon when she scored her first ever senior international goal. Her strong performance throughout earned her Player of the Match.
……………………………………………………………………………………………
Related Stories:
Football: Scottish Premier League results round-up
Football: Glasgow City end season in style
Football: Glasgow City win Premier League title for a third season in a row
…………………………………………………………………………………………

…………………………………………………………………………………………
The score was still 0-0 at the half, but Scotland clearly controlled the attack with three close attempts in the first half by centre half Rachel Corsie, captain Julie Fleeting and Megan Sneddon.
Scotland's second goal eventually came from midfielder Kim Little. She easily completed the goal after her team mate Leanne Ross beat the full back and sent in a cross which the Irish defence handled, forcing the referee to point to the spot. It was then that Little gave Scotland their two goal victory.
After the match Scotland full back Emma Fernon shared her delight for the match's result. "It was fantastic to score my first ever goal and to be honest I didn't even know how to celebrate," she said. "I thought overall it was a convincing win for us today, although at times our final ball let us down.
"In the first half we were a little over cautious defensively and at half time Anna (Signeul) told the full backs to push forward, which was great news for me. I must have spent the whole second half attacking, which obviously gave me the chance to score. Confidence is really high in the team just now and the spirit is fantastic. We are really looking forward to the World Cup Qualifiers next month."
Caitlin Ritchie, Sportsister
The Women's Sports Magazine
Image credit: Lorraine Hill
Select a sport
Find out how to get started, training plans and expert advice.