England Women recorded their first victory over world champions New Zealand in eight years yesterday (Saturday) in the Investec Challenge Double Header at Twickenham with an impressive 10-3 win.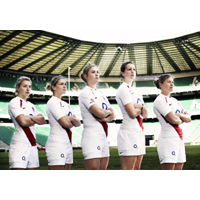 England, who last defeated the triple world champions in 2001, bounced back from a 16-3 defeat seven day ago to record the historic win just nine months before the Women's Rugby World Cup 2010 in London.
The Red Roses, playing in front of a record crowd of 12,500, were in impressive form, scoring the only try of the match courtesy of skipper Catherine Spencer.
The Bristol No.8, on her 50th cap, also went on to win the Investec Women of the Match award. Vice-captain Katy McLean also stoked over the conversion and a second half drop goal.
…………………………………………………………………………………………
Related stories
Rugby: England suffer second defeat to New Zealand
Michaela Staniford's training diary
………………………………………………………………………………………
England Head Coach Gary Street said: "It's brilliant to win here at Twickenham in front of our biggest ever crowd. Hopefully we have showed the people watching here today and watching on sky what a fantastic sport this is, and how skilful the women's game is at this level too.
"We won this game because of our physicality, our defence was tremendous and we really believed in ourselves. Catherine Spencer today put on one of the great Twickenham performances. To come out and play as well as she did being captain and earning her 50th cap is amazing. She is a tremendous athlete and brilliant leader of this team.
"From here now the important thing is that we keep moving forward and improving. We know that winning the world cup is not a pipe dream anymore, we can do it and that is our goal for the next nine months."
Just like seven days ago both New Zealand and England went into the match firing on all cylinders. The opening stages were tense with the tourists close to a score early on when Emily Scarratt's clearance kick was charged down. Centre Rachael Burford was in support though and England were let off the hook.
New Zealand continued to dominate territory and went close to scoring after a good line-out deep in England's 22 but they couldn't get over the line and instead opted for the drop goal which fly-half Rebecca Mahoney stroked over after 12 minutes.
England continued to be clinical and after a good line-out which saw the ball passed through McLean and Burford, Wasps prop Claire Purdy made a tremendous break up-field. Winger Kat Merchant took it on with another great run on the left but was tackled to the ground. England retained possession and recycled the ball out into the midfield with flanker Heather Fisher then taking her chance. A clever ankle tap brought her down, but again England kept the momentum going through Amy Turner, McLean and then Spencer. Spencer then found the space to score. With McLean adding the conversion England went into a 7-3 lead with 25 minutes gone.
The pressure remained and New Zealand went close to scoring before the break but England held firm in defence and kept their lead going into half-time.
England immediately put the Black Ferns under pressure after the restart with a good kick-off that saw the tourists fail to collect the ball. England pounced on the loose ball and Turner got it out to McLean who, in fine kicking form, stroked the ball over for an easy drop goal.
At 10-3 that was where the score stayed for the remainder of the match but the level of intensity never dropped. With the pitch and the ball getting more and more slippery in the wet conditions England couldn't take advantage of a great break by speedster Merchant who made it 25 metres up-field before being brought down.
New Zealand too had their chance to close the gap with two penalties but Mahoney couldn't convert, and as their spirits dampened England dominated more and more territory and although they couldn't convert the pressure into points they had done enough to earn the victory.
Louise Hudson, Sportsister
The Women's Sports Magazine
Photo credit: Nike. Pictured are Fiona Pocock, Rachael Burford – Vice Captain, Catherine Spencer – Captain, Emily Scarratt,  Georgina Rozario