10km run training plan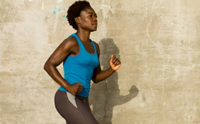 If you're one of the thousands of women who took part in a 5km Race for Life this summer and you're looking for your next big goal, a 10km could be the perfect step. Unlike a half marathon, which can seem rather daunting, the challenge of a 10km (6.2 miles) is achievable for just about anyone and the training is easy to fit into even the busiest diary.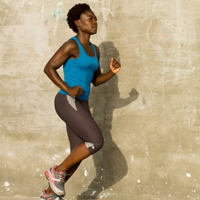 With literally thousands of 10km events around the country, you're bound to find one near you. Here is the Sportsister 10km training programme written exclusively by running coach and author Sarah Russell, to help get you round your first 10km in just 8 weeks.
Getting started
This programme assumes you can already run for about 20 minutes without stopping. The goal of the programme is to increase your endurance gradually over eight weeks, so by the end, you can comfortably run for 60 minutes or more. Plan ahead and give yourself plenty of time to train. If you're not quite at that level yet, be realistic and build up more slowly.
If you have any doubts about your health, please make sure you contact your GP before starting the programme.
MOT before you start
Do not ignore any pains and niggles, they're unlikely to go away on their own. Ignoring any discomfort or just 'resting' until it gets better won't address the underlying problem. Often, injuries develop over time and can easily be prevented with the right stretching and strengthening exercises.
Footwear
Having the correct running shoes is one of the most important things you can get right. Running in your tennis shoes, trainers that are worn out or cross-training shoes you use for the gym is a sure fire way to injury and one of the biggest mistakes new runners make. Just because you're new to running doesn't mean you don't deserve the right kit and correct shoes are vital for your comfort and injury prevention. Investing in specific running shoes does not need to be expensive (expect to spend about £60). Get advice from a proper running shop and choose a pair specific to your technique and style.
Bra
Next to shoes, a correctly fitting sports bra is the second most important investment you need to make. Your breasts move an average of nine centimeters when you run and wearing a supportive bra will reduce 'bounce' and provide essential support.
Choosing a race
The 10km is the most popular race distance in the UK and for good reason. It is a perfect goal for new runners wanting something challenging but achievable, the distance is realistic and the training doesn't require the commitment of that for a half marathon. The lure of improving your time is hard to resist, and you may find yourself barely over the finish line before you're planning your next event.
Late summer and autumn tends to be 10km season, which fits in really well with light summer evenings and mornings available for training. There are literally thousands of events to choose from and there's bound to be one local to you. Choose carefully though. If you're going for a 'time' don't choose an event where you could get caught up in large crowds liable to slow you down. Equally, if it's your first event, choose a race big enough to create a buzzing atmosphere and plenty of support for that 'feel good' factor. 
Many of the bigger events tend to sell out in advance, so book up early, get it in the diary and give yourself at least eight weeks to prepare.
The programme
This programme assumes you can already run for 20 minutes without stopping and have been running regularly for at least two months. It is aimed at those who may have completed a 5km (even if you jogged and walked it) and are ready to step up to a 10km. The programme is designed specifically to build up your endurance so by the end you should be able to comfortably complete your first 10km race.
There are three main sessions each week, which are designed to be progressive, allowing for recovery and improvement. If you miss sessions due to illness, injury or other commitments, don't panic and try to squeeze in extra to catch up. Just get back on track and pick up the programme where you left off.

Session terminology
Easy – as it says, jog, chat and enjoy at an 'easy' pace. If you were working on a scale of 1-10 (10 being flat out) you might be around 5/10. Preferably a nice, easy flat route.
Steady – a slightly quicker pace than 'easy'. On the scale, around 7/10. This might be a slightly more challenging route with some hills for example.
Jog/Walk – the goal here is to spend time on your feet. It doesn't matter if you walk bits of this session, just get out there and get the time in. Take fluid, sports drinks or gels with you.
Pace – a quicker pace. Somewhere in the region of 8 or even 9/10. You will be breathing harder and may not be able to chat as easily. These sessions only come later in the programme. They need to feel 'controlled' but that you are working a bit harder. You also need to add a five minute warm up and cool down jog to these sessions.
The most important aspect of any training programme however, is to listen to your own body and not blindly follow the plan. If you are really exhausted after a tough week at work or a broken night's sleep with your children, then adjust the programme accordingly (take a day off or swap days around). Don't push yourself to exhaustion – remember, this is meant to be fun!
Warming up
It is now universally recommended by running experts that you should not stretch BEFORE a run. In fact it could do more harm than good, as stretching cold muscles can cause injury before you even get out on the road. Here's what you should do to warm up:
1. Walk briskly for 5 minutes, swinging your arms and really 'striding out'. This raises your body temperature and heart-rate, and warms up your muscles ready for running.
2. Go through a series of mobility movements, shoulder shrugs, hip rolls, ankle rolls, knee lifts and so on, for about 2-3 minutes.
3. Then break into a jog and build up to your pace.
4. If you have any tight spots, you can stop to stretch them if you wish after jogging for 5 minutes or so.
Note ** The times indicated in the programme DO NOT include warm up or cool down time.
Cooling down & stretching
After your run, cool down by walking for a few minutes. Many runners sprint to the 'finish line', or their front door, and then just stop. Set your 'finish line' as a lamp post or landmark about three to five minutes walk away from your house or office, which will prompt you to always end your run there. Walk until your heart-rate feels like it's coming back down and your breathing rate has returned to normal.
Some stretching can then be undertaken when your muscles are cooling down. Go through a series of stretches for your hamstrings, quadriceps, calves, glutes, inner and outer thigh and upper body, holding each stretch for 30 seconds or so. Ask a trainer, coach or physiotherapist for advice if you are unsure.
…………………………………………………………………………………………………………
A beginner's guide to – stretching
…………………………………………………………………………………………………………
Race Day
Race day is here! This is what you've been working towards – have the confidence that you are well prepared – you can do this! Make sure you get there an hour or so before the start of the race – don't underestimate the parking, toilet and baggage queues.
Have some breakfast about 2 hours before the start and top up with a small snack (banana, sports bar etc) about 20 minutes before the gun goes. Warm up if you like with a 10 minute jog about 10 minutes before the start, pin your number to your t-shirt, do some light stretching and make a last trip to the loo.
Don't blow it in the first few miles by letting adrenaline get the better of you. Keep the pace really steady and don't race off too fast. Take the first half slowly and you can always speed up towards the end. Make sure you take on some water during the race especially if you're going to be out there for over an hour. Have a great run and enjoy every moment – especially crossing the finish line – you've earned it!.
Download training plan
Click here – 10km Training Plan – to download your training plan in an easy to print off and use format.
Sarah Russell, Sportsister
The Women's Sports Magazine
Sarah Russell has an MSc in sport science and 17 years experience in the health and fitness industry as a coach, trainer and nutrition expert. She is a competitive runner and triathlete as well as mother to 2 boys, journalist and race director for the popular Tunbridge Wells Half Marathon www.twharriers.org.uk
Select a sport
Find out how to get started, training plans and expert advice.