Modern Pentathlon: Young Prentice tops the Brits in Bath
Rising star Freyja Prentice built on her stunning Mexico debut yesterday by finishing fourth at the Bath International.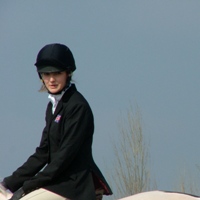 On her first senior appearance , the 18-year-old finished 10th at the World Cup at the weekend, and just 48 hours after landing back in the UK she crossed the finish line in Bath as the highest placed British athlete.
Prentice finished just ahead of Beijing 2008 Olympians Heather Fell (5th) and Katy Livingston (6th) after clocking the fastest time in the final event, the new combined run/shoot.
The teenager went into the final event in 14th place, after a poor fencing performance cancelled out a personal best time in the swim.
Afterwards she said: "I've never fenced that badly in my life. The jet lag was definitely a factor but I think that challenged me and made me work harder.
"The Mexico result was a complete shock. It was my first senior competition so I was just aiming to make the top 36 – all the other girls were quite surprised!"
Hungary's Leila Gyenesei took the title, climbing from eighth place going into the combined event, while the Athens 2004 gold medallist Zsuzsanna Voros fell back from 2nd place to 10th.
Heather Fell, silver medallist in Beijing, climbed from 10th to 5th in the combined event. She said: "It was a positive result for me in a young and enthusiastic field. I had five months out after the Olympics so I've only been back in training for two months."
There was also an encouraging performance from Charlotte Grandfield, who led the field after three events but fell back to 18th after the combined discipline.
The 20-year-old has just recovered from a broken toe and lacked the fitness to hold on to sustain her performance in the run/shoot.
She said: "It's not my strongest event but it's just a shame because I was in the form of my life before the injury. But I was obviously delighted with the other events."
Lawrence Dunhill, Sportsister
The Women's Sports Magazine
Bath International women's results:

Gold: Leila Gyenesei (HUN) 5388 pts
Silver: Natalie Danova (CZE) 5368 pts
Bronze: Sylvie Cerna (CZE) 5364
4th: Freyja Prentice (GBR) 5344
5th: Heather Fell (GBR) 5336
6th: Katy Livingston (GBR) 5324
12th: Sam Murray (GBR) 5156
13th: Louise Helyer (GBR) 5124
18th: Charlotte Grandfield (GBR) 4952
20th: Kate French (GBR) 4920
21st: Fleur Ross-Harris (GBR) 4876
23rd: Rachael Hares (GBR) 4780
25th: Lindsey Weedon (GBR) 4700
26th: Rebecca Wain (GBR) 4648
27th: Montana Jones (GBR) 4536
28th: Sarah Mosley (GBR) 4404
Select a sport
Find out how to get started, training plans and expert advice.