Active Holidays: Women only ski courses
It is time to wave goodbye to the winter blues and get active on the slopes. Women only skiing and snowboarding holidays are becoming increasingly popular and are a great thing to do alone or with a group of friends.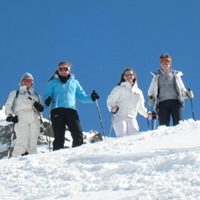 These holidays are tailored to suit women with a variety of abilities and many have female coaches to offer guidance in a friendly and supportive environment. There is also plenty of time to relax, with some also boasting free luxurious spa treatments.
"Men and women ski in totally different ways, so it makes sense to teach them separately," explains Nina Hasinski of Redpoint, who organises one of the trips featured in this article. "We know that women generally have a left brain dominance which means that they learn in a different way to men – whether it be learning to read or learning to ski.
"Our women only weeks were so popular last year that we decided to increase the number that we offer as well as add short breaks to make it easier for women with family or work commitments"
Check out Sportsister's top picks for 2009 and start your New Year with something different.
Inspired to Ski Women's Weekends
Where: Morzine, France
When: 3rd-6th January, 17th-20th January (possibility of an additional date on 14/15th March.)
How much: Prices for 3 nights stay vary between £225 – £350 in a choice of two chalets (single rooms available). Course : £199
Getting there: Book flights to Geneva here. Inspired to Ski will organise a transfer to and from the airport.
Further information: www.inspiredtoski.com or contact Sally Chapman at sally@inspiredtoski.com
If you can't get away for a full week, then Inspired to Ski's women only weekends are just the ticket. Offering several three day performance courses just for women. All levels except complete beginners are catered for in the courses.
Inspired to Ski work at your level, allowing you to determine areas that you would like to improve or tackle. Instruction, provided by British teachers, is all day for the first two days of the break and half of the third day. Groups average at about six people, and they usually have five or six groups running at any one time so there is sure to be a group that suits your ski level.
This set up makes it a particularly good choice for women on their own or mixed ability groups. Most guests tend to stay in one of the two recommended and reasonably priced chalets, which can be arranged through Inspired To Ski allowing you to mix with others easily if travelling solo.
Redpoint Holidays
Where: Zillertal, Austria
When: Various weeks from January- March 2009
How much: 14th- 21st December £651; 31st January- 07 February or 28th February- 07 March £728;
21st- 28th March £668
The price includes seven night's accommodation at the 4 star Hotel Crystal and includes buffet breakfast and a four-course evening meal.
Getting there: Book flights to Munich here. Redpoint will organise a transfer to and from the airport.
Further information: www.redpoint.co.uk/womens-ski-holidays.shtml
Redpoint have designed Women's Ski Weeks for women who want to improve their skiing or develop their confidence in a supportive environment. They offer both beginner and more advanced courses so there is something to suit all levels.
The price includes a women's only course or guiding (5 days of 3hours per day) in small ski groups led by British female instructors. When it is time to relax the hotel has the answer, providing unlimited use of its luxurious sauna, pool and relaxation area. You will also receive some of the hotels most popular treatments: an aromatherapy massage, a facial and a solarium free as part of this package.
Skimorzine- girls only clinic
Where: Morzine, France
When: 1st-5th February or 15th-19th March, 2009
How much: Staying at Chalet Flo, prices range from £575 to £795
The price includes half board accommodation and a minibus to and from the lifts in the morning and afternoon.
Getting there: Book flights to Geneva here. SkiMorzine will organise a transfer to and from the airport.
Further information: www.skimorzine.com
Skimorzine focus not only on the on-slope coaching but place a large emphasis on off slope techniques to help you overcome any physiological barriers that may be preventing you from improving on the slopes. Using a practice known as NLP (Neuro-Linguistic Programming) Anthony Davis, a NLP Master Practitioner and ski and snowboarding coach, will teach you various methods including positive thought and visualisation to help you overcome any fears or reservations which may be holding you back.
This on and off slope coaching technique is suited to those who are nervous skiers or for whatever reason have not improved as quickly as they would like. Groups are divided into two levels; the first for those who are fairly new to the slopes and the second level ski clinic is suited for people who have skied before but are ready to move up to the next level with some guidance and support. The clinics are not suitable for complete beginners.
Ski Divas
Where: La Grave, France
When: 15th-21st February, 2009
How much: US$3,300 (approx £2,200)
The price includes six nights of accommodation with meals, lift tickets, coaching and video analysis and après ski activities.
Getting there: Book flights to Grenoble here. Ski divas will organise a shuttle transfer to and from the airport.
Further information: www.skidivas.com
If you are serious about your skiing, and lets face it, you need to be to spend this amount on a week's trip, then you should consider Jessica Baker's 'Ultimate Steep Skiing and Skill Building Camp.'
La Grave is home to some of the steepest and most challenging ski terrain in Europe, and on this course you will learn how to tackle it. Areas covered include steep skiing skills, alpine safety, glacial travel/skiing, avalanche awareness and rope and anchor skills.
The skiing is instructed by professional skier Jessica Baker (she was 2004 US Freeskiing Nationals Champion) with support from an official UIAGM certified guide from the La Grave/La Meije guide service. And thanks to a maximum of five guests per coach and guide you get heaps of individual attention.
Off the slopes you can do yoga every morning, there's discounted massage therapy, French language lessons, wine and cheese workshops and even a camp finale party!
Natalie Cooper, Sportsister
The Women's Sports Magazine
Related features on Sportsister:
Active holidays: women's surf spas
Preparing for your skiing holiday – part one
Preparing for your skiing holiday – part two
Select a sport
Find out how to get started, training plans and expert advice.