Getting started – Badminton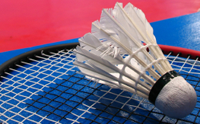 If you've played badminton on the beach on your summer holidays and fancy trying out the sport for real, then read on to find out all you need to know about getting started.

The great thing about badminton is that it can be played by just about anyone, and different ages can easily play against each other. It's a great social sport, it can be played all year round, it isn't weather dependent and costs very little to try out.
There are around 24,000 courts and over 500,000 people playing once per week in England, with many more enjoying a game throughout the year. In fact it's the most played racket sport in the country!
The basics
For a beginner, badminton is a relatively low cost sport to start playing. You can generally hire a court at a local sports hall or centre for a relatively low cost, this will allow up to four people to play at one time. You can also often hire a racket and a shuttle at your local sportscentre, or ask around your friends to borrow one before you spend out on your own (see below for more on rackets and shuttles).
Clothing is very straightforward too, you can just wear any fitness or gym kit, however you will need a decent sports bra. Footwear is a bit more specific, ideally you should use indoor court shoes or badminton trainers as these have good grip and support. But to start with you can get away with any trainers as long as they have non-marking soles. If you do decide to buy your own, you can buy a good pair for under £50.
The court
So now you are ready to play you need to know what the lines on the court mean. If you are playing doubles you will use all the court and for singles just the central section (marked in yellow on the diagrams). To serve you stand behind the short serve line and hit the shuttlecock into the diagonally opposite box (marked in blue).

If the shuttlecock falls short of the short serve line it is a point to your opponent and their serve. If the shuttlecock clips the net, but still lands in the correct area then this is a valid point. Once the game is underway the whole court can be used.
Scoring
To start, take up position on either side of the net, hit the shuttle into the air and let it fall naturally to the ground. Whichever way the ball end is pointing indicates the side the game will start.
The first serve is taken on the right hand side of the court, this is the even side of the court – the left hand side is the odd side. If your score is an even number (0,2,4 etc) you serve from the right. If your score is an odd number you serve from the left.
You can score a point whether you are serving or not, so you gain a point for each win. The game plays until either side has reached 21, however there must be two points between the sides – so 21-19 would win, but 21-20 would have to keep playing until either side was two points ahead.
Rackets and shuttles
Rackets are made of various lightweight materials and can cost anything from £10 to over £100. To start with you do not need to spend a fortune, but do avoid the very cheap rackets (under £10)
The key elements to think about are; if the racket feels appropriately balanced for you, has the correct level of flexibility and is strong enough for the string tension that you require. This probably all sounds a bit baffling if you are new to the sport, so try to find a good sports store or racket specialist who can advise you. Very often they will loan demonstration rackets for a week or so, and that is certainly worth doing before you buy.
Shuttles are plastic or feathered. If you are just starting, plastic shuttles are ideal and cheaper. They come in three speeds – fast, medium and slow, start with medium speed until you know more about the game.
Joining a club
There are many clubs around the country that welcome learners and new members, and once you get the hang of it, it is really beneficial to play different players. To find a club in your area take a look at the relevant links listed below:
Badminton England – Badminton Scotland – Badminton Wales – Badminton Ireland
Watching Badminton
A great way to improve your game and pick up some tips is to go and watch some top-level competition. Next year there are some exciting events in the UK, so why not book some tickets and support your favourite team.
There's the Commonwealth Games in Glasgow in 2014, and the UK's first ever National Badminton League (NBL) is also being launched in October, which will see six teams around the country buy players at an auction and play each other every month live on TV to be crowned the winner.
So now there is no stopping you, give it a go and in no time you will probably be hooked and all your friends will want to play too!
Danielle Sellwood, Sportsister
The Women's Sports Magazine
Read more about Badminton on Sportsister:
Sportsister meets Gail Emms and Donna Kellog
Sportsister meets Tracy Hallam
More get started guides on Sportsister:
Select a sport
Find out how to get started, training plans and expert advice.