Getting started…….skiing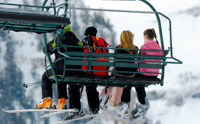 Fancy starting a new sport but don't know where to begin. Let Sportsister's Getting Started guides inspire you to get out there and try something new. We'll tell you everything you need to know to give it a go?
What's it all about?
Heading to the mountains, wrapping up warm and preparing to fling yourself down a hill.Skiing can be one of the most exhilarating sports out there, and its appeal continues to grow. Once prohibitive costs limited it to the lucky few, but now thanks to growing competition between airlines and holiday operators, and the burgeoning eastern European resorts, it's well and truly open to all.
Prepare yourself for invigorating mountain air, fantastic scenery, plenty of laughs and the inevitable sore rear! But be warned – most find it highly addictive!
Who can do it? How fit do I need to be?
Skiing can be quite physically demanding, but with an average level of fitness and agility all ages will manage just fine. As a beginner you can arm yourself with a series of pre trip exercises that will put you in good stead for hitting the slopes. But nothing will prevent the impending bumps and bruises you are sure to gain from the inevitable tumbles.
There's no shame in falling though, even expert skiers will fall sometimes, and the majority of the time it will not hurt – it may even make you relax more when you realise it doesn't always hurt. And remember if you are concerned about your fitness levels you can always check with your GP before your have a go.
Where can I give it a go?
While nothing can match the experience of hitting the slopes in a ski resort, unfortunately for us in the UK that can mean a big trip. So for beginners a great place to start is on an indoor snow dome, where you can experience skiing on real snow without having to travel abroad. More and more of these domes are opening across the country, and they're a great option to test out if you like the sport or to get a bit of pre-trip practise in.
Another option is to have a go on a dry ski slope. There are many of these around the country and a good alternative if you don't have a snow dome close by. You can hire all your gear here and get lessons from the experts too.
Is it expensive to start up? Do I need any equipment?
Skiing is not a cheap hobby, but it has become much more affordable in recent years. Ski resorts can vary massively in price so be sure to look into this before you go. As a beginner you won't need to buy our own skis and boots, instead hire these in the resort. You will also need a lift pass, to get you up the slopes, which will be one of the biggest expenses of the week, but as a novice you may not need it for the first few days so check with the ski school or holiday company.
And as a beginner you will obviously want to take some lessons too, with most resorts having ski schools. When booking your trip its worth asking if there are any beginners packages available as this may include your hire, lessons and a ski pass at a cheaper rate. You will also need the correct clothing – a warm, waterproof ski jacket and trousers are essential, as is a pair of gloves. But remember you can use this year after year, or borrow from friends to begin with.
What now?
Well, once you have booked in for your lessons in an indoor snow dome, you will be ready to start planning your first ski holiday. Resorts can vary massively in price, atmosphere and suitability for beginners so make sure you do your homework. Skiing appeals to everyone from families with children (young and old), groups of friends and couples. So make sure you choose the resort that's best suited for your holiday.
Where should I go?
Les Gets in France is a pretty alpine resort that has plenty of easily accessible beginner's slopes and a great ski school for kids. There is limited nightlife but if it's family friendly beginner resort you are after it's a good choice.
Borovets is the best resort in Bulgaria for beginners, so if fancy cashing in on the lower prices here in Eastern Europe, this would be a good choice. There are over 200 ski instructors, most of which speak English, and some excellent nursery slopes. It's a good choice for a budget conscious trip.
Geilo, the second largest resort in Norway, is another good pick. You will be spoilt for choice with easy runs, there's an excellent ski school and runs are usually uncrowded.
If its nightlife you are after head to what is one of the world's best known resorts, Val D'Isere in France. While it's not ideal for beginners it does have a good ski school and some good novice runs but it won't be quite as convenient as some other resorts. If its life off the slopes you are looking for though it's a good choice.
Glossary – sound like a pro (even if you're not!)
Runs – also known as pistes, and what you will be trying to ski down. Runs are colour graded according to difficulty. As a beginner you'll be looking for green and blue runs, and avoiding the reds and blacks.
Powder – What every skier wants on their holiday -fresh snow falling so deep that it feels like powder. It hurts a lot less when you fall in powder snow!
Après Ski – What you do when you have finished skiing for the day. For many it's an integral part of the holiday, to finish the day with a beer or a gluhwein (hot, mulled red wine) in one of the bars.
Moguls – Something to avoid as a beginner! Mounds of snow, often formed by skiers turning in the same places, and then exaggerated as more skiers follow that same path. Moguls can get so big, and close together, it is difficult to ski over or around them.
Off Piste – Some skiers choose to leave the marked runs and head off piste in search of fresh tracks (when you can see no one else's ski tracks where you are skiing) – again something for beginners to avoid but you are sure to hear it being talked about.
Snowplough – the first kind of turn you will learn to do and hopefully master during your first week on the slopes. It's also the name given to the large trucks that groom the slopes at night.
Louise Hudson, Sportsister
The Women's Sports Magazine
Useful links
www.snowdome.co.uk and www.xscape.co.uk – for indoor snow dome information
www.skiclub.co.uk – The ski club of Great Britain website is packed with information on the sport
www.ifyouski.com – a one stop shop for ski fans, packed with snow reports, resort info, tips on technique and great deals to get you to the snow
Select a sport
Find out how to get started, training plans and expert advice.